Farm Safety – Things to think about for everybody!
Last week, (6-10 July) was the 3rd annual Farm Safety week.  This initiative has highlighted a number of topics which affect, not just the farming community of Britain but anyone who visits the countryside and enters farmland. This could be somebody out walking enjoying the fresh air, people having a holiday staying on a farm or people, especially children, visiting a farm as part of their holiday or on a school trip.
Farming fatality figures show no decline
The National Farmers Union, NFU, is urging British farmers to assess risks and take action to make agriculture safer, after HSE figures showed there were 33 worker deaths in the sector last year.  In addition, four members of the public died on farms.
The figures show no progress against the five-year average.
Farms also remain the only workplace where children continue to suffer serious injuries
---
The two HSE cases this week both look at tragic accidents that shouldn't have happened
The employee, who wishes not be named, suffered a broken and lacerated finger during the incident at English Provender Company Ltd's site in Thatcham, Berkshire.
The 19-year-old employee spent months in hospital and his injuries are life-changing. It is not known if he will ever be able to walk again.
As ever, if you have a subject that you would like us to cover one week, please contact us by phone 01458 253682, email or via our Facebook page  or by Twitter
---
Farm Safety – Things to think about for everybody!
This year's Farm Safety Week (6-10 July) was supported the Farm Safety Foundation, Farm Safety Partnership, the Health & Safety Executive, Health & Safety Executive for Northern Ireland and the Health & Safety Authority, Ireland.
Farming accident rates showing no decline!
Some 33 fatal injuries to agricultural workers were recorded – a rate of 9.12 deaths per 100,000 workers, the same as the average of 33 deaths in the past five years and, unfortunately, an increase from the 27 deaths recorded in 2013/14.
So what are the main areas to consider, both for the farmer/farm worker and the casual visitor?
Farm Vehicles
29% of all farm related fatalities have been due to vehicle overturns and people being struck by moving vehicles on England's farms.
All-terrain vehicles, including quad bikes, can have fatal consequences if best practice is not adhered to. Even when it is, there is always the possibility that accidents can happen – but you can take steps to reduce those chances and best protect yourself should an issue occur.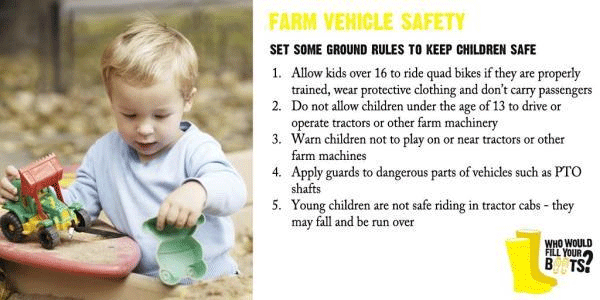 And of course, if you are the driver of a farm vehicle don't forget to think about the consequences of your actions and don't lose concentration!
Experienced farmer Roger James, lost concentration and hence control of his quad bike whilst riding up a slope on his Powys farm and ended up underneath it.
Roger admits that a moment's inattention changed his, and his family's life forever. "99 times out of 100 I wouldn't have gone up that slope on the quad bike," he said.

"I just wasn't concentrating on what I was doing for those few seconds.  I did it without thinking.  Basically, I shouldn't have been there."
Roger was herding cows on his farm at the time. Before moving the herd, he set off on his quad bike to check out the new field. With a number of tasks in mind his attention slipped, just for a moment, from steering the machine along an appropriate route.
That fleeting loss of concentration meant he found himself riding up a slope instead of continuing his approach on level ground.  The result was sudden and dramatic.  The slope was too steep for the vehicle's stability. It tipped backwards and upended, throwing Roger on to the ground behind.  As he lay there, stunned and unable to move, the tumbling machine landed on him.  Half a tonne of falling metal hit Roger's unprotected body and smashed his pelvis. He wasn't wearing protective headgear so, serious as his injuries were, he considers himself lucky they weren't even worse.
Roger spent eight days in traction before being transferred to University Hospital, Coventry for surgery. He then spent a further seven days in hospital and the following three months confined to bed. But the consequences of that momentary lapse are permanent.  Roger's injury has left him in constant pain with limited mobility.
The livestock ABC – 'Always Be Careful'
Over the past five years 17% of all reported major injuries are as a result of livestock-related incidents and 11% of all workers killed on farms over this period were livestock-related. Handling livestock always involves risks, from crushing to kicking and butting.
Of course it isn't just Farmers and their workers who are at risk from livestock. People with little to no knowledge of livestock can find themselves in trouble when the wander into fields of cattle especially when they have a dog on the lead.
Most cattle are placid animals and safe to be near. However some breeds are more temperamental than others whilst all breeds will go on the offensive to protect their young, especially if they feel threatened by a barking dog. So please think BEFORE you enter a field of livestock!
Fencing of slurry lagoons
A few years ago I visited a farmer out on Exmoor. His wife was subsidising their business by running a small B&B business. Whilst I was there I saw some children kicking a ball around only a few yards away from his Slurry pit. Now it was in the summer and the top of the slurry had formed a crust and so looked much like the rest of the ground. There was no fence to prevent these children running on to this slurry pit to retrieve their ball.
When I pointed this out to the farmer, he said he couldn't see a problem because "Everyone knows what it is" and "no-one has run onto it yet"
But, as I pointed out to him, these children were on holiday from a city and probably didn't know what it was and as the HSE report:
Incidents involving slurry occur regularly on farms in Great Britain. These incidents include people, not just farmers, being overcome by toxic gases, drowning as a result of a fall into slurry or liquid stores, or being injured from the collapse of structures containing slurry.
The HSE has updated their guidance on the precautions required to prevent these incidents, including practical advice on:
avoiding exposure to slurry gases
standards of fencing etc needed to deter access by unauthorised people – particularly children – into areas used for storing slurry, other effluent, or water on farms
preventing vehicles entering slurry storage areas at scraping points
assessing the structural integrity of above-ground slurry storage facilities.
The guidance can be found here
Farmers: Stay safe in hot weather!
As I discussed last week Temperatures are forecast to reach 30 degrees in parts of the UK over the summer with high pollen and UV levels also forecast.
This is also the time of year when many farmers are out in their fields hay making etc. so we ask them to consider the following safety tips:
Covering up exposed skin
Using a hat to protect the head
Seeking shade during the hottest part of the day
Frequent application of sun screen during the day
Drinking of plenty of water
Checking for changes to the skin
Children and farms
Every child loves being on the farm, but while it can be place of great fun and excitement, it can also be an extremely dangerous environment.
As a parent myself it is upsetting to read that 16 children have lost their lives on England's farms over the past decade. Farms remain the only workplace where children still continue to die in what is always a horrific tragedy for families and heart-breaking for their communities. This is why it is important that the issue of farm safety is addressed, a plan is devised and implemented properly.
Summer is a time when children can be more at risk with the long school summer holidays and the challenging workloads for farmers. I recommend that farming families, especially those that have holiday makers coming to stay, have a dedicated safe play area for younger children so as to keep them safe from heavy machinery and other dangers around the farm, particularly when farms are at their busiest.
Too often, children have access to the entire farm and view it as one big play space. Children must be taught about farm dangers and be kept isolated from these risks.
While it is important that children are looked after they should still being encouraged to engage with farms in order to learn how they work and understand how food is produced. It is also important that the next generation of farmers are able to safely help their parents on the farm.
If children are old enough, tell them about the dangers they should look out for and where they are not allowed to go and encourage them to be responsible. Don't let them learn safety by accident. Always take the time to think about what you are doing on the farm, where the children are and what might go wrong as making a few simple checks could actually save a life – maybe your own child's!
Farms can be wonderful places but please remember to keep safe!
Is there any subject you would like covered in this newsletter? Please contact us by phone 01458 253682, email  or visit and let us know
---
Training Courses
This week we are running 2 private courses on CDM2015 in London and Birmingham.
We are also running three more courses locally as listed below:
CDM Regulations 2015 – for the Smaller Builder – half day course
Course Objective:
The Construction (Design and Management) Regulations 2015 (CDM 2015) come into force on the 6th of April 2015, and will apply to all construction projects in the UK incl. Domestic projects
This CDM 2015 awareness training course has been developed to provide smaller builders and tradesmen, especially those who haven't dealt with CDM before, with an understanding of their role and responsibilities under CDM 2015.
Seminar Outline:
Introduction to CDM 2015
Domestic Client Duties
Principal Designer Duties
Designer Duties
Principal Contractor Duties
Sub-Contractor Duties
CDM Documentation
Benefits of Attending
This course give an overview of the requirements for smaller builders and domestic clients and how the regulations apply to all construction projects from minor repairs and decorating works through to building a new house for a domestic client.
Course Duration:
1/2 day
| COURSE REF | DATE(s) |  LOCATION |
| --- | --- | --- |
| CDM2015 1507 | Thursday 23rd July 2015 | Taunton Racecourse,Orchard Portman,Taunton,SomersetTA3 7BL |
Fee: £80 to include Course notes, Coffee on arrival & mid-morning refreshments and a Certificate of Training (Fee subject to VAT)
---
ASBESTOS AWARENESS – half-day course
This course is being presented by Jon Wilkins MSC RMaPS AIIRSM and Phil Collins BSc Hons DipSurv MRICS
Course Objective           Training /CPD Certificate issued
Asbestos awareness training is essential for employees whose work holds the potential to expose them to asbestos. The Control of Asbestos Regulations 2012 puts a requirement on employers to ensure that their staff have undergone suitable asbestos awareness training so that they are aware of the potential dangers they may face and also the procedures they must follow in the event they are working in the vicinity of asbestos containing materials (ACMs)
Who Is This Course Suitable For?
The main groups of workers that are deemed to be at risk from asbestos exposure and therefore the groups most requiring asbestos awareness training are as follows:
General Maintenance Staff.
Electricians, Plumbers & Gas Fitters. Painters & Decorators.
Construction & Demolition Workers. Joiners and Plasterers.
Computing & Telecommunications Engineers.
Heating & Ventilation Engineers.
Roofers.
Architects & Building Surveyors
Fire & Burglar Alarm Installers
Syllabus:
Asbestos- a  history of use
What is Asbestos
Amosite (Brown) – Chrysotile (White) – Crocidolite (Blue)
Asbestos Containing Product Examples
Asbestos Properties and the hidden legacy of asbestos
Control of Asbestos Regs and Requirements
Exactly who is at risk
Action to take on discovery and Survey and Recording
Course Duration: 
½ day
COURSE REF
DATE(s)
LOCATION
ASBESTA 1501
Thursday 30th July 2015

Taunton Racecourse,

Orchard Portman,

Taunton,

Somerset

TA3 7BL
Fee: £60 to include Course notes, Coffee/Tea on arrival & mid-morning refreshments, CPD Certificate of Training (Fee subject to VAT)
---
Emergency first-aid at work – one-day course
Under the Health and Safety (First-Aid) Regulations 1981, it is the responsibility of the employer to ensure they provide adequately trained persons to cover their First-aid requirements. The following course has been approved and recognised by the HSE as meeting the basic requirements set by the regulations.
Who Is This Course Suitable For? 
Smaller companies

Offices and shops with less than 50 employees and other low risk environments

Employees working off site

Self-employed people

Anyone who wants to learn first aid and assist in an emergency situation.
SYLLABUS
First Aid Kits

How to manage an incident

Treating an unconscious casualty

Resuscitation and CPR

Asthma

Choking

Chest Pains

Seizures

Bleeding

Shock

Burns and Scalds

Care and Communication

Open Forum
Course Duration:
1 day
| COURSE REF | DATE(s) | LOCATION |
| --- | --- | --- |
| WSG. EFA . 1501 |  Wednesday 12th August 2015 | Taunton Racecourse,Orchard Portman,Taunton,SomersetTA3 7BL |
Fee: £120 to include Course notes, mid-morning & afternoon refreshments, Finger buffet lunch and a Certificate of Training   (Fee subject to VAT)
For more information and to book and pay on line please visit our Training Dates page.
If you have any questions about these courses or any other training or would like us to run a particular course for you, call Jon Wilkins of the Wilkins Safety Group on 01458 253682 or email him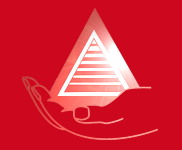 Your Business is Safer in Our Hands
---