Managing for health and safety.
This week's article looks at the HSE's guide to Managers HSG65. This is mainly for leaders, owners, trustees and line managers. It will particularly help those who need to put in place or oversee their company's health and safety arrangements.
The advice may also help workers and their representatives.
The guidance explains the Plan, Do, Check, Act approach and shows how it can help you achieve a balance between the systems and behavioural aspects of management. It also treats health and safety management as an integral part of good management generally, rather than as a stand-alone system.
---
This week's 2 recent HSE cases look at accidents where there was a lack of H&S management.
As ever, if you have a subject that you would like us to cover one week, please contact us by phone 01458 253682, email or via our Facebook page or by Twitter.
---
Managing for health and safety
Businesses have a legal duty to put in place suitable arrangements to manage for health and safety. This article provides a framework to help you do that effectively, in a way that your business can tailor to your own circumstances.
In implementing your arrangements, you should consult with your employees or their representatives, including trade unions where they are recognised.
The framework described in this article is universal but how far action is needed will depend on the size and nature of the organisation, and the risks from its activities, products or services.
The Plan, Do, Check, Act approach
HSE has moved away from using the POPMAR (Policy, Organising, Planning, Measuring performance, Auditing and Review) model of managing health and safety, to a 'Plan, Do, Check, Act' approach.
The move towards Plan, Do, Check, Act achieves a balance between the systems and behavioural aspects of management. It also treats health and safety management as an integral part of good management generally, rather than as a stand-alone system.
The high-level descriptions may vary, depending on the industry or sector you are working in, but a summary of the actions involved in delivering effective arrangements and how they are frequently described is given in Table 1, under the headings of Plan, Do, Check, Act.
Table 1 The read-across between Plan, Do, Check, Act and other management systems
| Plan, Do, Check, Act | Conventional health and safety management | Process safety |
| --- | --- | --- |
| Plan | Determine your policy/Plan for implementation | Define and communicate acceptable performance and resources needed & Identify and assess risks/Identify controls/Record and maintain process safety knowledge |
| Do | Profile risks/Organise for health and safety/Implement your plan | Implement and manage control measures |
| Check | Measure performance (monitor before events, investigate after events) | Measure and review performance/Learn from measurements and findings of investigations |
| Act | Review performance/Act on lessons learned | |
Plan
Think about where you are now and where you need to be.
Say what you want to achieve, who will be responsible for what, how you will achieve your aims, and how you will measure your success. You may need to write down this policy and your plan to deliver it.
Decide how you will measure performance. Think about ways to do this that go beyond looking at accident figures; look for leading indicators as well as lagging indicators. These are also called active and reactive indicators.
Consider fire and other emergencies. Co-operate with anyone who shares your workplace and co-ordinate plans with them.
Remember to plan for changes and identify any specific legal requirements that apply to you.
Do
Identify your risk profile
Assess the risks, identify what could cause harm in the workplace, who it could harm and how, and what you will do to manage the risk.
Decide what the priorities are and identify the biggest risks.
Organise your activities to deliver your plan
In particular, aim to:
Provide adequate resources, including competent advice where needed.
Involve workers and communicate, so that everyone is clear on what is needed and can discuss issues – develop positive attitudes and behaviours.
Decide on the preventive and protective measures needed and put them in place.
Provide the right tools and equipment to do the job and keep them maintained.
Train and instruct, to ensure everyone is competent to carry out their work.
Supervise to make sure that arrangements are followed.
Check
Make sure that your plan has been implemented – 'paperwork' on its own is not a good performance measure.
Assess how well the risks are being controlled and if you are achieving your aims. In some circumstances formal audits may be useful.
Investigate the causes of accidents, incidents or near misses
Act
Learn from accidents and incidents, ill-health data, errors and relevant experience, including from other organisations.
Revisit plans, policy documents and risk assessments to see if they need updating.
Take action on lessons learned, including from audit and inspection reports
The Plan, Do, Check, Act cycle
Plan, Do, Check, Act should not be seen as a once-and-for-all action: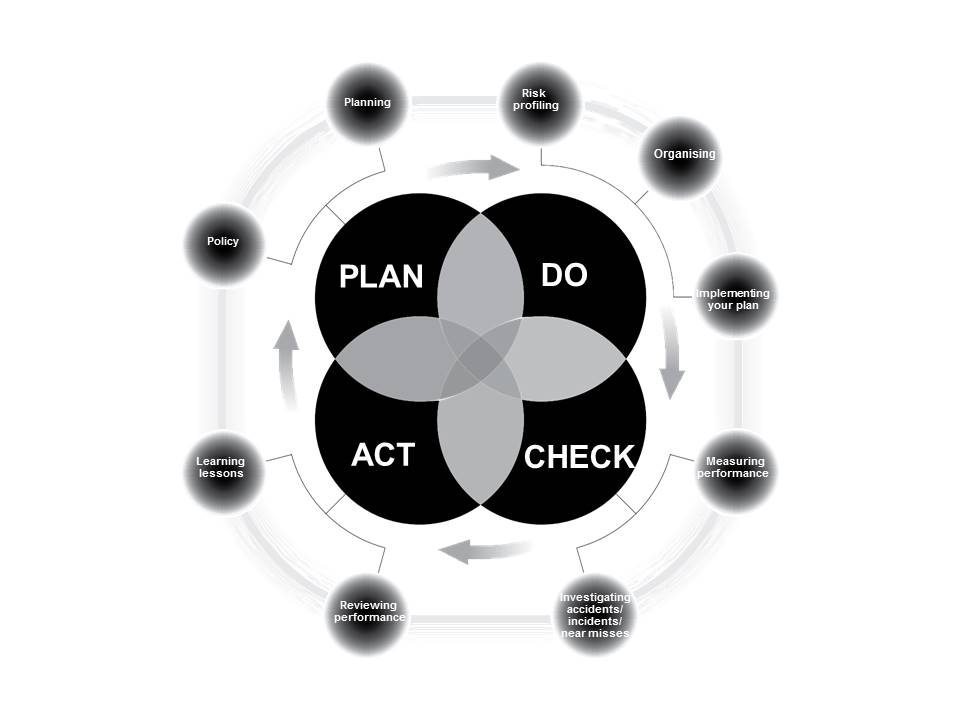 You may need to go round the cycle more than once, particularly when:
starting out;
developing a new process, product or service; or
implementing any change.
Whatever your industry, or the size or nature of your organisation, the keys to effectively managing for health and safety are:
leadership and management (including appropriate business processes);
a trained/skilled workforce;
an environment where people are trusted and involved.
HSE advocates that all of these elements, underpinned by an understanding of the profile of risks the organisation creates or faces, are needed
Legal duties
All organisations have management processes or arrangements to deal with payroll, personnel issues, finance and quality control – managing health and safety is no different.
The Management of Health and Safety at Work Regulations 1999 require employers to put in place arrangements to control health and safety risks. As a minimum, you should have the processes and procedures required to meet the legal requirements, including:
a written health and safety policy (if you employ five or more people);
assessments of the risks to employees, contractors, customers, partners, and any other people who could be affected by your activities – and record the significant findings in writing (if you employ five or more people). Any risk assessment must be 'suitable and sufficient';
arrangements for the effective planning, organisation, control, monitoring and review of the preventive and protective measures that come from risk assessment;
access to competent health and safety advice, such as The Wilkins Safety Group;
providing employees with information about the risks in your workplace and how they are protected;
instruction and training for employees in how to deal with the risks;
ensuring there is adequate and appropriate supervision in place;
consulting with employees about their risks at work and current preventive and protective measures.
Leading and managing for health and safety
Judith Hackitt, HSE Chair recently said:
'There is a need for a sensible and proportionate approach to risk management, in short, a balanced approach – this means ensuring that paperwork is proportionate, does not get in the way of doing the job, and it certainly does not mean risk elimination at all costs.'
Leaders, at all levels, need to understand the range of health and safety risks in their part of the organisation and to give proportionate attention to each of them. This applies to the level of detail and effort put into assessing the risks, implementing controls, supervising and monitoring.
If you would like any further help or support, please please contact us by phone 01458 253682  or email.
---
Training Courses
We shall be running new courses again in 2016 and the dates and details of forthcoming courses will be published here each week.
But remember we are still available for running "In House" courses and we have now also added a new training service for our customers.
Site Manager Safety Training Scheme – (Part of Construction Skills "Site Safety Plus" Suite of Courses)
We have formed an association with a local company TQ Excel who are one of the UK's leading providers of accredited training to the highways sector of the construction industry.
AS a result of this we can now offer the SMSTS (Site Management Safety Training Scheme).
The Site Management Safety Training Scheme forms part of the Construction Skills (CITB) Site Safety Plus range of courses which are highly regarded within the construction industry.
The 5 day training course is aimed at site managers wishing to develop a more in depth legal, moral and social understanding of their role and also teaches delegates how to manage on-site health and safety in accordance with current legislation.
We also offer the 2 day SSSTS Training Course (Site Supervisor Safety Training Scheme) which is a 2 day course aimed at those with on-site supervisory responsibilities.
We also can now offer NRSWA courses.
These qualifications are for those involved in the Excavation and Re-instatement of the highway and are specified under the New Roads and Street Works Act 1991. They are a legal requirement for "statutory undertakers" (i.e. Utility Contractors) and for those working under "section 50 licenses" (Drainage works etc).
Where works are subject to the Act there must be a minimum of 1 qualified operative on every site that is qualified for the operations being carried out and there must be a Supervisor available to visit the site at least on a daily basis.
The qualifications are also often specified by client organisations and local authorities when appointing contractors for works involving excavation or reinstatement of the highway for other purposes.
Dates for all new courses will follow soon
If you have any questions about these courses or any other training or would like us to run a particular course for you, call Jon Wilkins of the Wilkins Safety Group on 01458 253682 or email him.
---