DSE stands for Display Screen Equipment.
Set out in the 1992 DSE health and safety regulations, the assessments are put into place to protect employees working with laptops, alphanumeric or graphic display screens, touch screens and other similar devices. In companies that have five or more staff, a record of a DSE assessment must be kept on file for any employee working with any of the devices listed above.
As workplace assessors, we believe that it is good practice for companies of any shape and size to conduct assessments for their team regardless of the size of the company. If your team spends a lot of time sitting, making their workstation safe and comfortable can have a positive effect on productivity.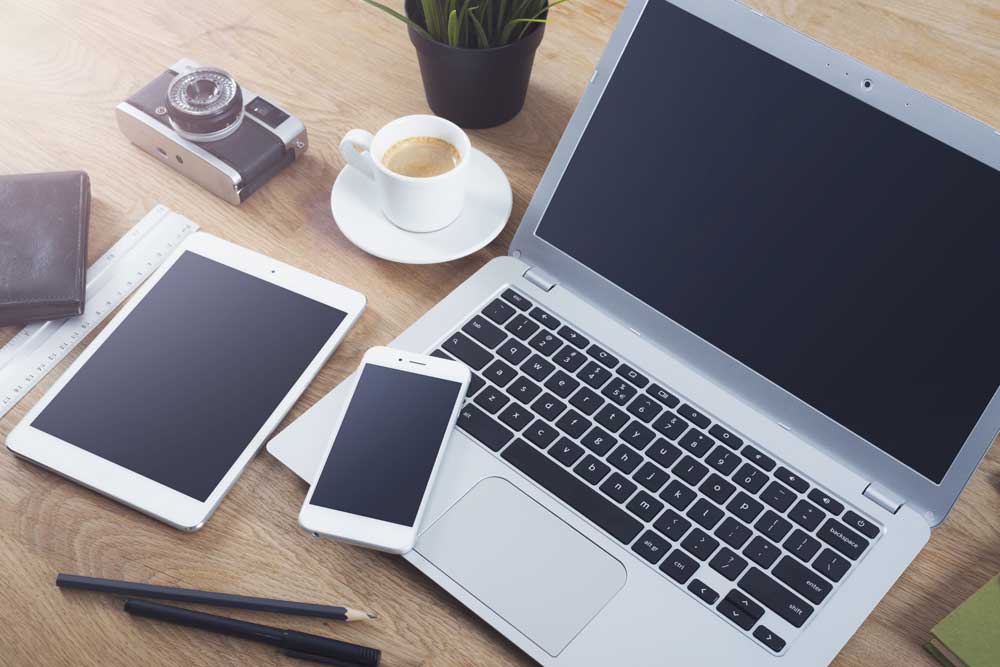 Are DSE assessments still relevant and important?
Computers, laptops, tablets and how we all use them has drastically changed over the past 20 years. However, even though they were first released in 1992, following the DSE guidelines won't just keep you legally compliant, but they can also be a simple and cost-effective way to improve your workplace well-being in a practical and measurable way.
Whilst carrying out a display screen equipment assessment, you get a great opportunity to open a dialogue with your employee on a one to one basis.
During the assessments we conduct, we cover everything from pre-existing medical conditions and disabilities to stress levels and ways of working. If your employee is happy to share this information with you, it allows you to make the necessary adjustments for their health, comfort and happiness.
As mentioned in the introduction, only 10% of UK Companies were fully DSE compliant. So businesses need to start looking at DSE differently.
Rather than paying lip-service to the legislation guidelines, it is an ideal an opportunity to reduce long term sickness, improve employee retention and provide the building blocks for a meaningful well-being scheme.
What are the fundamentals of a good DSE assessment?
When conducted correctly, the regulations extend far beyond the provision of an eye test and delve into whether the individual is working safely from eye care to posture.
A crucial part of the DSE legislation is that the employer must make reasonable adjustments and provide an appropriate workstation:
Does the employee have a recent eye test on file? The employer is obliged to foot the bill for an eye test, and if it is decided that they need glasses for DSE work, basic frame and lenses;
The person in charge of conducting the DSE assessment must be adequately trained to deliver the assessment. A good training course will usually consist of an overview of the risks, how to approach team members about their queries and hands on practical experience on how to set up standard workstation equipment;
The person having the DSE assessment must be provided with instructions, information and health and safety training so that they fully understand any risks and safe working practises. If they've been presented with an ergonomic workstation, they won't feel the positive effects if they can't adjust it to suit their body. Furthermore, you'll need to provide them with the process for reporting any issues should they notice any problems or risks arising;
The individual needs to be provided with suitable workstation which includes an adjustable chair with five star base and the relevant equipment for their role.
How to conduct a DSE assessment
There are three main ways to conduct a DSE assessment: Online systems, printed self-assessments or bringing in an independent company to conduct them on your behalf. Dependent on the size of your company, you will need to weigh up how you will efficiently conduct the assessments and how you will safely store them in line with your HR and GDPR policies.
We usually find that companies will require a mixture of services to make sure they stay compliant. Whilst a self-assessment is a cost-effective option, if you have over 50,000 staff it might not be the most practical way to complete your DSE assessments. For larger companies, an online system to flag up the people that need extra assistance would be the most efficient way to focus your resources. Combined with employee and assessor training, you'll be well on your way to the prevention of musculoskeletal issues.
Should smartphones be considered as DSE?
The Blackberry was launched in 1999 and the iPhone was first unveiled in 2007. It would be understandable, therefore, to assume that the Display Screen Equipment (DSE) regulations, brought into force in 1992, do not cover smartphones. This assumption would, however, be incorrect.
Introduced in 1992 and amended in 2002, the DSE regulations do in fact include smartphones. This is mostly due to the fact that the details of the regulations are based on the manner and amount of use, rather than the precise category of screen.
Defining DSE
It is the definition of DSE that brings smartphones into this category. Under the specifics of the regulations, DSE is defined as 'any alphanumeric or graphic display screen, regardless of the display process involved'.
This explains how smartphones are counted as DSE, despite not being in existence when the regulations were drawn up. The next defining area is what is not counted as DSE.
In article four of the legislation it states that they do not apply to vehicle cabs; screens on transport; screens mainly intended for public operation; calculators, cash registers, or equipment with a display for direct use of the item; window typewriters; or, vitally, portable systems not in prolonged use.
What makes a positive identification of smartphones being included is 'portable systems not in prolonged use'. As a smartphone has an alphanumeric graphic display screen, if it is in prolonged use, it is classed as DSE.
It is, therefore, the length of time for which an employee uses the DSE that is important, over and above the type or size of screen. While there are no specified times to categorise 'prolonged use', it would seem reasonable to assume that a smartphone used for a significant part of an employee's working role, to view and respond to emails, for example, would count as DSE under the regulations.
Extra guidance
The DSE regulations themselves are long and complex. Thankfully, the HSE has provided a guidance booklet entitled 'Work with Display Screen Equipment'. Mobile phones are mentioned here, with it stating that, with the merging of information and communication technologies, small screens are being used for a wider range of tasks. The example is given of mobile phones that can be used to compose and edit text, view images, or connect to the internet: smartphones. The HSE states specifically that: 'Any prolonged use of such devices for work purposes will be subject to the DSE Regulations.'
As with all DSE, the working patterns would need to be assessed. With prolonged use, frequency of use, and the working role being dependant on the use of the phone, all being important factors.
It should be noted that we are discussing smartphones and not mobile phones because the guidance also makes it clear that phones in prolonged use for spoken conversations are excluded, because their display screens are incidental to this use.
Visual demands
Whether we like it or not, smartphones are now ubiquitous in the workplace and being used on a more and more regular basis for a wide variety of working roles. The DSE regulations were first put in place to ensure that employees benefited from regular eye tests if they regularly worked with a PC screen. As this was the case with the desk-based computer monitors of the time, it is perhaps even more of an issue with small, hand-held smartphone screens.
Enlightened employers and safety managers are well aware of the importance of looking after the eye sight of their employees. There are many additional benefits to providing eye care, not least the ability to detect and monitor serious eye health issues and much wider systemic conditions, like diabetes, high blood pressure, cardiovascular disease, some cancers, and dementia. Even managing the more minor conditions, such as headaches and eye strain, will have a positive effect on well-being and, therefore, on productivity.
The fact that smartphones are, under many circumstances, considered to fall under the DSE regulations, is a positive one. This means that eye care will reach a greater number of employees.
---
Legislation and guidance
The main duties for the management of health risks at work and for health surveillance are contained within:
The Health and Safety (Display Screen Equipment) Regulations 1992 (amended 2002) apply to all display screen equipment (DSE) – computer screens.

The Health and Safety at Work etc. Act 1974

The Management of Health and Safety at Work Regulations 1999.
---
Recommendations for employers:
assess the work station and reduce any identified risks to workers from use of DSE (this covers users employed directly by the employers, users employers by others, such as agency staff, and self-employed contractors)
provide training to assessors and users
ensure all workstations meet the specified minimum ergonomic requirements
where possible, consider the possibility of a mixture between sitting and standing at the workstation
plan work activities so that they include micro breaks or changes of activity this can be achieved using software which monitors usage and reminds users to take stretch breaks and micro-breaks
provide eye and eyesight tests on request, and special spectacles if required specifically for DSE work
inform users what you have done
---
Case law
2006 – Freelancer claimed £37,500 for
repetitive strain injury.
A freelance journalist working for a national newspaper claimed that she worked almost exclusively using a mouse, at speed, for an average of nine hours a night, and up to 45 hours a week, without proper breaks.
No risk assessment was undertaken at the start of her employment and 15 months after starting work, the claimant developed stiffness and pain in her right elbow. Her GP gave her a cortisone injection to ease the pain and recommended that she seek help from her employer.
The employer's HR department refused to help, as she was not a permanent member of staff. Eventually she was unable to bend her elbow and was unable to continue working.
Following nine months of physiotherapy she was able to return to a lower paid job in media.
---
Help available from The Wilkins Safety Group Ltd
 Here at the Wilkins Safety Group we can help clients with:
 Online training in areas such as DSE Equipment and DSE Workstation Assessment. – See below about our new Online Training
Model Policy on Display Screen Equipment
WSG Guide on Display Screen Equipment Checklist and Display Screen Equipment User Assessment
---
If you would like any further help or support, please please contact us by phone 01458 253682, email or via our Facebook page or by Twitter.
---
The Wilkins Safety Group have now launched our much-anticipated health and safety e-learning
Great News!! we have now launched our Online e-learning courses in Health and Safety that are suitable for most organisations.
You can book as many of each of the courses as you need. We think our courses offer great value for money but to help you further, the more places you book on a course, the cheaper it becomes!
Simply click on any of the courses listed to find out what the course will offer you. if you like what you see, you can book the course online and we will send you individual logins for everyone undertaking the training. On successful completion of the course, certificates will be issued.
For more information and to book your courses please go to: https://wilkinssafety.co.uk/courses/
We hope you find these useful and we will be adding new courses in the near future.
Why use online health and safety e-learning?
There are many e-learning benefits: You can drastically cut your risks and improve effectiveness. Staff retention and productivity will increase and safety will improve. It's that simple.
The health and safety e-learning training courses are dynamic, engaging and very interesting. As the content is interactive your staff will learn quickly, retain more knowledge and enjoy the training.
The self test section means that they get to see how much they have learnt and if necessary, revisit any areas that they have failed. There is an option to print a certificate for each user who has passed which is personalised with their details.
By providing high quality accurate health and safety information to your staff you will build a culture of safety and help increase staff retention, productivity as well as protecting yourself from damaging and expensive legal action.
One of the major e-learning benefits is the fact that the system provides an audit trail which tracks your staff progress and you can make an accurate assessment of their understanding.
How is the training delivered?
The Wilkins Safety Group e-learning system is delivered over the Internet, all you need to access your system is a PC with Internet browser (you will also need your user name and password).
The system is hosted on our secure server. The server carries an SSL certificate and all data is encrypted for maximum security. We manage the server that means that you have no IT worries.
What is the cost of these courses?
Companies will be able to buy credits. Each of these credits will allow 1 allocated person access to 1 course. The cost of these credits will reduce based on the number of credits purchased.
Below is the list of the first 16 e-courses that have gone live:
Asbestos Awareness Interactive
COSHH Interactive
DSE Equipment
DSE Workstation Assessment
Electrical Safety
Environmental Awareness
Fire Extinguishers
Fire Safety and Evacuation
First Aid
Food Hygiene
Food Hygiene Level 2
Health and Safety Induction Interaction
Manual Handling
Protection against effects of Noise
Risk Assessment
Stress in the Workplace
The next 14 will be
Accident Investigation interactive – Every Company boss should know how to do this
Articulated Forklift Truck Ops – Essential if you have these in your workplace
Driver Safety Interactive – Something I have touched on in recent newsletters
Fire Warden Interactive – This for your Fire Wardens
Home Worker – Do you employ any Home Workers?
Infection Prevention & Control – Relevant in Hospitals, Care Homes and food establishments
Lone Working Interactive – There are many lone workers
Mental Health & Wellbeing – As previously covered in these newsletters
Office Safety Interactive – An essential for all office workers
Permit to Work – Do you require a PTW where you are going to work?
Personal Protective Equipment – Make sure your employees are fully aware of the PPE they need
Safety Hazards – Are you aware of the Safety Hazards in your workplace?
Slips Trips and falls – Main cause of accidents in the workplace
Working at height interactive – Main cause of accidents on construction sites
We would love to hear any expressions of interest or of any other courses that you would like us to develop.
---