Health surveillance is a system of ongoing health checks.
These health checks may be required by law for employees who are exposed to noise or vibration, ionising radiation, solvents, fumes, dusts, biological agents and other substances hazardous to health, or work in compressed air.
Health surveillance can sometimes be used to help identify where more needs to be done to control risks and where early signs of work-related ill health are detected, employers should take action to prevent further harm and protect employees.
So, this week I thought that I would look at this subject because I am aware that some companies, whilst providing the relevant RAMS, PPE etc. do not however, carry out the required health checks on their employees.
Is Health Surveillance required in your workplace?
Occupational health provision is concerned with the prevention, monitoring and treatment of work related disease and ill-health. Health surveillance is monitoring carried out work on individuals to check for an identifiable condition, e.g. noise induced hearing loss.
When is health surveillance required?
The Management of Health and Safety at Work Regulations 1999 require that employees are provided with such health surveillance as is appropriate having regard to the risks to their health and safety as identified by the assessment. HSE guidance recommends that such health surveillance is warranted when:
there is an identifiable disease or health condition related to the work concerned
it is likely that the disease or condition may occur
there are valid techniques are available to detect it the early signs of the disease or health effect
these techniques do not pose a risk to employees.
The Control of Substances Hazardous to Health Regulations 2002 contains similar requirements but also require health surveillance where exposure to a specific list of materials is involved (Schedule 6). The Approved Code of Practice to the Regulations also lists specific types of work where health surveillance is required under the above criteria.
If employees are exposed to risks from:
asbestos,
radiation,
lead,
vibration or noise, or
artificial optical radiation,
health surveillance may be required. Regulations for the Control of Electromagnetic Fields at Work Regulations came into force in April 2016, which also require health surveillance in certain circumstances. If necessary, contact us at The Wilkins Safety Group for specialist advice.
Health surveillance is important for:
detecting ill-health effects at an early stage, so employers can introduce better controls to prevent them getting worse
providing data to help employers evaluate health risks
enabling employees to raise concerns about how work affects their health
highlighting lapses in workplace control measures, therefore providing invaluable feedback to the risk assessment
providing an opportunity to reinforce training and education of employees (eg on the impact of health effects and the use of protective equipment)
Your risk assessment should be used to identify any need for health surveillance.  You should not use health surveillance as a substitute for undertaking a risk assessment or using effective controls.
Health surveillance can sometimes be used to help identify where more needs to be done to control risks and where early signs of work-related ill health are detected, employers should take action to prevent further harm and protect employees.
When putting in place a health surveillance programme, avoid blanket coverage for all employees as it can provide misleading results and waste money.
When is exposure or health monitoring required?
Health monitoring is needed where an employee's fitness for work is a key element of their safety and that of co-workers. Examples are diving and confined space work.
Exposure to specific hazards should be monitored at source periodically, e.g. measurement of noise, monitoring of exposure to fumes and dusts etc.
The purpose of this is to check that exposure is within statutory limits and to assess the level of risk.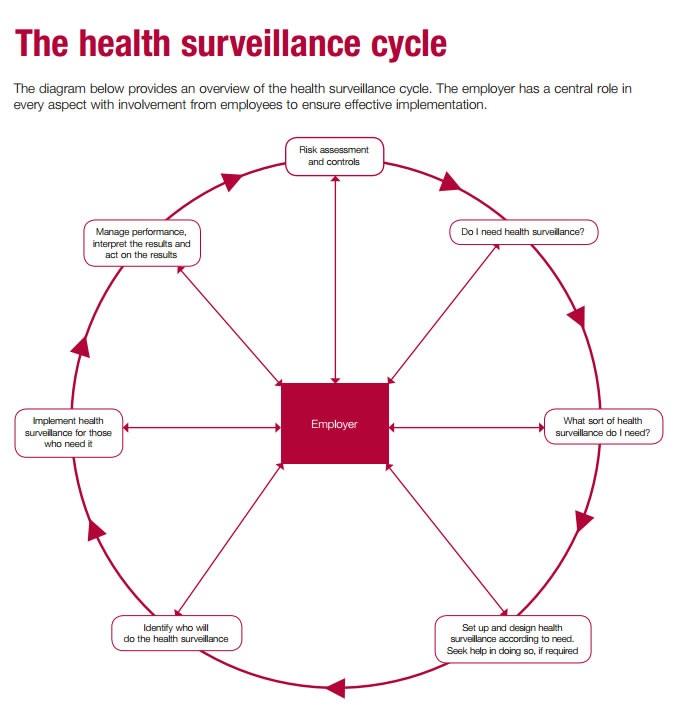 Difference between health records and medical records
We must stress here that no employer has the right to see an employee's medical records – these are confidential to the employee and his/her doctor.
However, the results of health surveillance are recorded in a health record. This should include the outcome of the test/check that was performed and the decision made by the occupational health professional as to the employees continuing fitness for task. This health record should be made available to management so they are aware of the continuing fitness for work of the employees.
Other details may have been taken by the health professional during the health surveillance. These would form part of the medical record of the employee and will be confidential.
---
Legislation and guidance
The main duties for the management of health risks at work and for health surveillance are contained within:
The Control of Substances Hazardous to Health Regulations 2002

The Health and Safety at Work etc. Act 1974

The Management of Health and Safety at Work Regulations 1999.
In addition, there are regulations which require health surveillance for particular activities which involve exposure to lead, noise, vibration, optical radiation, asbestos, ionising radiation, diving activities, working in compressed air, and safety critical tasks in the rail industry.
The Reporting of Injuries, Disease and Dangerous Occurrences Regulations 2013 (RIDDOR) contain requirements for the reporting of certain diseases to the authorities.
---
Recommendations for employers:
carry out risk assessments to identify work which requires routine exposure monitoring, health monitoring and/or surveillance, obtaining advice as necessary from an Occupational Health provider
implement a programme of exposure monitoring, if needed, with input from an Occupational Hygienist
identify health checks to be carried out at the start of employment in a role and periodically throughout employment
consider what occupational health support may be needed to assist employees returning to work after long term sickness absence
determine whether the organisation would benefit from health promotion campaigns and other health initiatives (i.e. going beyond the legal requirements)
monitor sickness absence for illnesses which may be work related, or made worse by work
implement an occupational health programme to include all of the above items, with input from a competent Occupational Health provider as necessary
ensure that suitable records of health surveillance and occupational health provision are maintained confidentially and retained for a suitable period (usually at least 40 years)
check that arrangements are in place for identifying and reporting diseases in accordance with RIDDOR
review the arrangements periodically.
---
Case law
A Bristol company was fined £100k and ordered to pay £30k costs having exposed employees to hazardous chemicals over a 4-year period.
This lead to allergic contact dermatitis with one employee suffering four years of skin blistering, cracking and splitting
---
Help available from The Wilkins Safety Group Ltd
Here at the Wilkins Safety Group we can help clients with:
Online training in areas such as Asbestos, COSHH, Noise at Work and Stress in the Workplace. – See below about our new Online Training
Model Policy on Occupational Health Provision and Health Surveillance
WSG Guide on Occupational Health Provision and Health Surveillance
Related WSG Guides 'Asbestos Management', 'Radiation', 'Vibration at Work', 'Noise at Work', 'Sensitisers and Allergens', COSHH/Hazardous Substance Control'.
If you would like any further help or support, please please contact us by phone 01458 253682, email or via our Facebook page  or by Twitter.
---
Taunton & Somerset CPD Group at The Exchange House Taunton
Please remember that we now run these CPD events at the Exchange House, 12 – 14 The Crescent, Taunton TA1 4EB on a fortnightly basis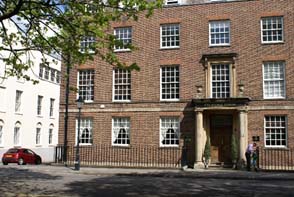 The next of the CPD events is listed below.
As previously requested, if you could let us know whether or not you can attend it would be greatly appreciated. Also, if you would like to give a talk, or know of somebody who would, please contact Jon at [email protected]
Our next Seminar will be on Wednesday 12th June 2019. Could you please arrive by 12:30pm prompt.
Our speaker for this one is Sam Hagley of Venesta who will talk about Designing Washrooms for different applications
If you haven't already booked your place, or if you are not on the CPD Seminar mailing list but would like to be please drop Jon an email and he will deal with your request.
As per our last one if you could let Jon know whether or not you can attend within 7 days of receipt of his email, it would be greatly appreciated.
Contact Details [email protected]  07831 714199 or 01458 253682
Please Note: This will be the last one until 11th September.
---
The Wilkins Safety Group have now launched our much-anticipated health and safety e-learning
Great News!! We have now launched our Online e-learning courses in Health and Safety that are suitable for most organisations.
You can book as many of each of the courses as you need. We think our courses offer great value for money but to help you further, the more places you book on a course, the cheaper it becomes!
Simply click on any of the courses listed to find out what the course will offer you. if you like what you see, you can book the course online and we will send you individual logins for everyone undertaking the training. On successful completion of the course, certificates will be issued.
For more information and to book your course/s please go to: https://wilkinssafety.co.uk/courses/
We hope you find these useful and we will be adding new courses in the near future.
Why use online health and safety e-learning?
There are many e-learning benefits: You can drastically cut your risks and improve effectiveness. Staff retention and productivity will increase and safety will improve. It's that simple.
The health and safety e-learning training courses are dynamic, engaging and very interesting. As the content is interactive your staff will learn quickly, retain more knowledge and enjoy the training.
The self test section means that they get to see how much they have learnt and if necessary, revisit any areas that they have failed. There is an option to print a certificate for each user who has passed which is personalised with their details.
By providing high quality accurate health and safety information to your staff you will build a culture of safety and help increase staff retention, productivity as well as protecting yourself from damaging and expensive legal action.
One of the major e-learning benefits is the fact that the system provides an audit trail which tracks your staff progress and you can make an accurate assessment of their understanding.
How is the training delivered?
The Wilkins Safety Group e-learning system is delivered over the Internet, all you need to access your system is a PC with Internet browser (you will also need your user name and password).
The system is hosted on our secure server. The server carries an SSL certificate and all data is encrypted for maximum security. We manage the server that means that you have no IT worries.
What is the cost of these courses?
Companies will be able to buy credits. Each of these credits will allow 1 allocated person access to 1 course. The cost of these credits will reduce based on the number of credits purchased. See pricing chart below:
| No of Credits | 1-5 | 6-10 | 11-20 | 21-30 | 31-40 | 41-50 | 51-75 | 76-100 | 101-150 | 151-200 | 201-250 |
| --- | --- | --- | --- | --- | --- | --- | --- | --- | --- | --- | --- |
| Cost of Credit | £19.99 | £17.99 | £16.99 | £15.99 | £14.99 | £13.99 | £12.99 | £11.99 | £10.99 | £9.99 | £7.99 |
Below is the list of the first 16 e-courses that have gone live
Asbestos Awareness Interactive
COSHH Interactive
DSE Equipment
DSE Workstation Assessment
Electrical Safety
Environmental Awareness
Fire Extinguishers
Fire Safety and Evacuation
First Aid
Food Hygiene
Food Hygiene Level 2
Health and Safety Induction Interaction
Manual Handling
Protection against effects of Noise
Risk Assessment
Stress in the Workplace
The next 14 will be
Accident Investigation interactive    –  Every Company boss should know how to do this
Articulated Forklift Truck Ops           –  Essential if you have these in your workplace
Driver Safety Interactive                       –  Something I have touched on in recent newsletters
Fire Warden Interactive                        –  This for your Fire Wardens
Home Worker                                             –  Do you employ any Home Workers?
Infection Prevention & Control         –  Relevant in Hospitals, Care Homes and food establishments
Lone Working Interactive                    –  There are many lone workers
Mental Health & Wellbeing                 –  As previously covered in these newsletters
Office Safety Interactive                       –  An essential for all office workers
Permit to Work                                         –  Do you require a PTW where you are going to work?
Personal Protective Equipment        –  Make sure your employees are fully aware of the PPE they need
Safety Hazards                                          –  Are you aware of the Safety Hazards in your workplace?
Slips Trips and falls                                – Main cause of accidents in the workplace
Working at height interactive           – Main cause of accidents on construction sites
We would love to hear any expressions of interest or of any other courses that you would like us to develop.
---