Welcome to our latest Update E-Newsletter
As ever, please feel free to share this with friends and colleagues. You will also find PDF versions of all our other newsletters on our website, with lots more useful information and a wealth of leaflets covering Health and Safety topics.
New year, new farming attitudes needed says HSE.
The Health and Safety Executive (HSE) have announced a programme of inspections that will review health and safety standards on farms across the country, and the industry is being reminded that the inspections will soon begin
The inspections will ensure those responsible for protecting themselves and workers are doing the right things to comply with the law and prevent death, injury and ill-health. If they are not HSE will not hesitate to use enforcement to bring about improvements.
Throughout the inspection initiative, inspectors will be checking that risks are being controlled in specific areas including:
Machinery
Falls from height
Children
Livestock
The announcement follows a series of compliance events that were developed as a result of research into farmers attitudes to risk and are aimed at changing behaviours in the industry. Farmers in the area were given the opportunity to attend one of these events, paid for by HSE, to help them comply with the law and prepare for our inspections.
HSE is now following up to make sure that all farms in the area are doing the right thing. Agriculture has the poorest record of any industry in Britain, bar construction, and latest figures show that 33 people were killed in agriculture across Britain in 2017/18.
HSE's head of agriculture, Rick Brunt, said:
"We are seeing signs of a change in attitude across the farming industry and while this is encouraging, these inspections act as a reminder to farmers of the importance of managing risks so that everyone can go home from their work healthy."

"Everyone involved in farming has a role to play. Those working in the industry need to understand the risks they face and the simple ways they can be managed. Those that work with the industry can be part of the change that is so badly needed.

"Farmers, managers and workers are reminded that death, injuries and cases of ill-health are not an inevitable part of farming."
So in an attempt to help Farmers we will cover some of these areas here:
Vehicles and machines
Have your machine operators received training on every vehicle they use?
Whilst this sounds obvious, experience has shown that too many operators of farm machinery have only received the most basic level of training, showing the intended operative what the various knobs, levers and buttons do but little else.
ATVs/quad bikes are prime examples of vehicles used inappropriately. Living in a farming area as I do, I have seen farm hands both young and old, driving these across fields and down county lanes without wearing a suitable helmet. I have seen them standing up on these and showing no regard for their own safety.
Maintenance again it is not uncommon to see tractors, combine harvesters etc. out in the fields with damaged mirrors or with mud covered windscreens.
Part of these inspections by the HSE are likely to include checks on farm machinery. Find out more HERE:
Falls from height and falling objects
There are various areas where farm workers can be asked to work at height. Working at height accounts for a high proportion of farming accidents every year.
Access equipment Ladders should only be used as a means of access, should be properly stored and maintained and any damaged ladders destroyed to prevent use.
Scaffold towers, Cherry pickers and Scissor lifts should only be used by those who have received adequate training and people must not be lifted up when they are stood on the forks of a forklift.
Working on Fragile roofs should be avoided by farmers and farm operatives except under limited occasions. You should be using a competent contractor with the knowledge, skills, equipment and experience to safely work at height on buildings.
On the very rare occasions where you do need to do roof work, make sure you have received the relevant training and work from underneath the roof using a suitable work platform, such as a tower scaffold. When this is not possible, we suggest you use a MEWP and work from within the basket without standing on  the roof itself. If this is not possible, as a last resort, you may access the fragile roof but only after installing perimeter edge protection and staging boards fitted with guard rails. This spreads the load and we only work on this staging
Children
Whilst growing up on a farm must be a wonderful experience for most children, it is also a dangerous place to grow up.
Children should be supervised and not allowed to wander off on their own. For those farmers who also take in paying guests during the holiday season, don't forget that many children who come from inner cities, have no understanding of the risks that come with a farmyard.
I will always remember carrying out an inspection on a farm on Exmoor and seeing two or three young children from London, kicking a football around next to an unprotected slurry pit. It was in the summer and the slurry pit had a dry crust on top. I pointed out to their parents that if they kicked their ball onto the "Hard crust" and ran on to retrieve it. The crust would doubtless break and the children would be drowned in slurry that was about 10-ft in depth.
I also spoke to the farmer and stressed the need to fence it off. He admitted that he hadn't considered the risk because he knew not to step on it as had his sons when they were young, because they knew what it was. He just assumed that everybody knew!
Also, it is illegal to let children under 13 ride in or on, or drive, farm vehicles such as
Tractors and ATVs
Cattle and other livestock
Cattle/sheep/pigs/horses and all other livestock are naturally unpredictable creatures and as such, should be treated with care and the appropriate handling controls.
All operatives need to be trained in livestock control and how to correctly use the doors in a race, how to use a crush etc.
Handling aids such as poles and halters should also be used. An enclosure should never be entered where there is a loose bull or a cow is with a calf, unless the animals are suitably restrained or segregated.
Fields with public access
Wherever possible do not place bulls or cows with calves at foot, in fields which have a public right of way through them. If this is not possible, then you must take precautions to separate the animals from the path and fit signs at field entrances advising that a bull or cows with calves are present.
Moving loads by hand
Wherever possible workers must always try to avoid manual handling and repetitive movements by seeing if they can do the job with a machine.
Your workers must be given Manual Handling training and made aware that the risk of injury is higher when loads:
weigh more than 25 kg
can be difficult to grip, handle or manoeuvre
are lifted or lowered frequently or carried long distances
have to be lifted above shoulder height, up from the floor or involve twisting
Chest problems and lung disease
Farms can be a naturally dusty place due to straw/hay/dry animal feeds and of course the use of harmful chemicals.
You should endeavor to enclose sources or spray and dust as much as possible. Keep straw and hay in clean well-ventilated sheds.
Operatives who are required to work in dusty areas must be face fit tested and given the appropriate masks to wear.
Animal diseases
All operatives, and visitors, must wash their hands with soap and water before eating or drinking after they have had contact with animals or animal living areas.
Any cuts and grazes must be immediately washed, dried and covered with a waterproof dressing. Gloves and a waterproof apron should be worn when handling potentially infected material such as birth, muck or sewage products.
Where there are suspected or confirmed cases of animal diseases such as avian flu, full RPE, protective coveralls, boots and eye protection should be worn in addition to gloves. Suitable means to disinfect boots etc must also be used.
Chainsaws
Nobody must be allowed to use a chainsaw to work on or in trees until they have been awarded a certificate of competence or a licence to practice. They should attend refresher courses at least every three years
Workers using chainsaws for any other work must have received suitable training from a qualified instructor on how to operate and maintain them.
Saws and protective clothing.
All saws must be well maintained and fitted with a chain catcher, combined chain brake and front hand guard, silencer and anti-vibration mounts
The chains must have low kickback characteristics and be sharp, correctly tensioned and lubricated
All operators must wear a safety helmet, hearing protection, eye protection and gloves
Operators must also wear protective clothing around their legs and feet, usually chainsaw trousers with all round protection and chainsaw boots
Further guidance can be found HERE.
If you would like any further help or support, please please contact us by phone 01458 253682, email or via our Facebook page or by Twitter.
Taunton & Somerset CPD Group at The Exchange House Taunton
Please remember that we now run these CPD events at the Exchange House, 12 – 14 The Crescent, Taunton TA1 4EB on a fortnightly basis
The next of the CPD events is listed below.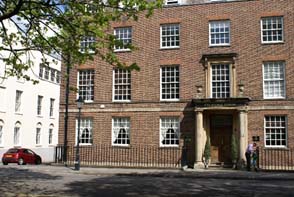 As previously requested, if you could let us know whether or not you can attend it would be greatly appreciated. Also, if you would like to give a talk, or know of somebody who would, please contact Jon.
Our next Seminar will be on Wednesday 30th January 2019 Could you please arrive by 12:30pm prompt.
Our speaker for this one is Ian Hayward of SIG Design & Technology will talk about Roof Design 
If you haven't already booked your place, or if you are not on the CPD Seminar mailing list but would like to be please drop Jon an email and he will deal with your request.
As per our last one if you could let Jon know whether or not you can attend within 7 days of receipt of his email, it would be greatly appreciated.
Contact Details [email protected] 07831 714199 or 01458 253682
*Early notice of 13th February meeting. Craig Huxley of Triflex (UK) Limited will talk about Creative Car Parks
For more details about these and the other forthcoming CPD talks please see cpds to 13th March 2019
---