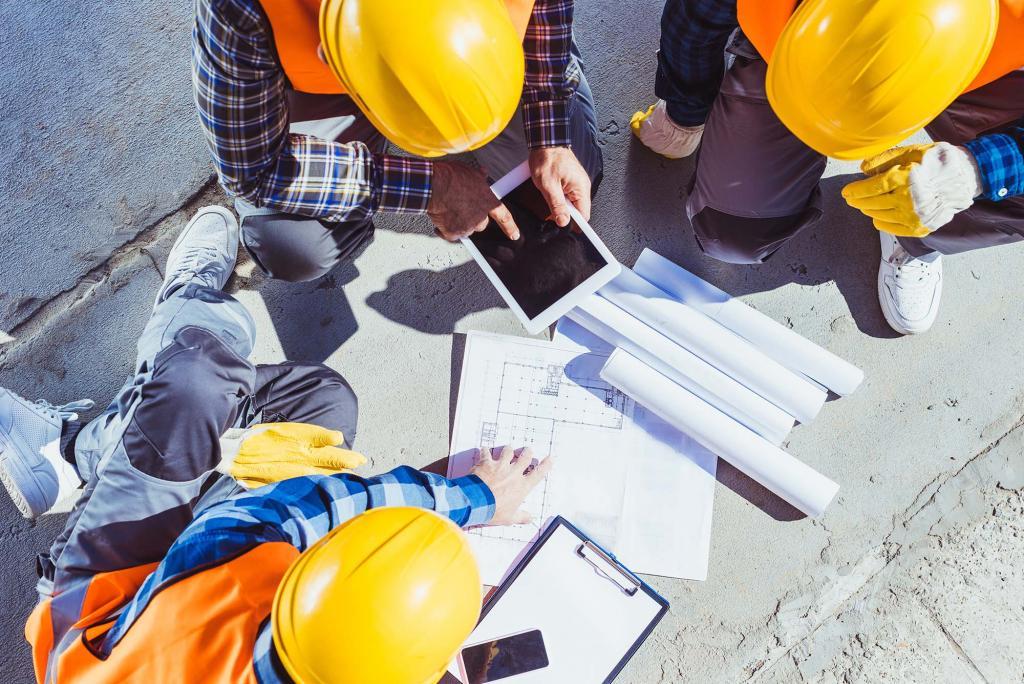 Communicating Health & Safety
Companies use many different types of communications for a variety of purposes, some examples are listed below.
Important messages are often communicated in several ways to re-enforce and remind of the content.
General safety communications, e.g. Notices, warning signs, posters, memos, gestures, hand signals, manager or supervisor leading structured safety talks in the workplace, observed compliance with safety rules (visible leadership);
Specific safety communications: to pass on and to receive information such as lessons learned; communication of actions taken after accidents, audits and risk assessments; responsibilities in job descriptions; safety signage and signals. Includes important safety instructions/training and emergency plans where confirmation of understanding is mandatory.
Safety meetings, the records of those meetings and how they are distributed.
Job-specific communications: examples include job briefings, 'toolbox talks' and written instructions or procedures with information focussed on job hazards and safety precautions needed. Discussions within teams and between teams (e.g. between team members working on the same job; between operations and maintenance teams, when handing over work from one shift to another). Job briefings before non-routine work is carried out, as part of the issue of safe work permits or confined space entry permits.
Informal communications: examples include general discussions and interactions between employees, supervisors and managers, where these include safety issues, discussions about life saving rules and behaviours, leadership behaviours, perceived attitudes of supervisors and leaders.
Emergency information: examples include gas or fire alarms, Public Address (PA) messages, team briefings, media statements.
Safety-critical Instructions: urgent instructions where it is essential that sender needs confirmation that action has been completed or is made aware of any issue. Examples includes communication with emergency services, communication between crane driver and banksman (see picture).
The success or effectiveness of any communication depends on whether the intended recipient undertakes the desired action.
Learning more about communications on safety.
If the answer to any of the questions below is 'no', then you need to take action
Is the workforce actively involved in communications such as by dialogue and consultation rather than being just passive receivers of information?

Are the communication channels by which people should raise safety concerns with management clearly understood, used, and is appropriate feedback received?

Is there a defined structure for shift handover arrangements?

Do employees and contractors know when and how they should report safety concerns?

Do employees understand where they can obtain key safety information?

Is the successful communication of key aspects of critical procedures assured?

Is there a management system to communicate changes in practice and lessons following an incident?

Is there evidence that changes to practices, as a result of an incident, are understood by affected employees and contractors?

Has the company implemented ways to communicate relevant major hazard information to permanent and temporary employees, contractors, visitors and neighbours and to monitor the effectiveness of those communications?

Have communication methods been considered in defining the leadership structure during emergencies and normal business?

Is there a process to ensure that modifications, changes to processes, procedures, systems and organisation are communicated to all relevant employees and contractors?

Can employees describe the safety implications relevant to their role, of any recent changes to the plant?

Is there a process to review the communications routes following plant/organisational change
What can you do about it?
Much of human factors is about communication. It is clear that accurate and timely communications are important for safety and efficiency in work. In order to perform a task properly anyone needs to have acquired the correct knowledge, training and understanding.
Part of the process of selecting personnel is an interview in which existing skills and experience will be discussed. This is a communication process exploring the skills and knowledge that potential employees and contractors already have.
Training is a form of communication. First, it involves finding out what training is required, then passing new information to personnel to improve their skills and knowledge. When work starts, specific issues about each job should be described in tool-box talks and in the procedures used. Both should emphasise health and safety issues.
Pre-job discussions identifying overlapping activities and the possible safety effect on others nearby are especially important on construction sites.
In the workplace, displays, signs and labels communicate factual and safety information.
Nowadays most people will need to use several technology platforms, i.e. smartphones, internet voice/video communications, net-meetings, e-mail, radios or intercoms,to contact others. Each have specific advantages and issues.
Safety concerns arising in the workplace will need to be communicated via a reporting system.
All of these are communication issues: they are also human factors issues.
What can Managers do about it?
Management should provide adequate resources to that all kinds of safety communications can be delivered effectively.
Where there is evidence that key messages are not being received, understood or acted upon, then the company should investigate and address any identified barriers to effective communication. Remember that messages need to be created well, sent – to the target audience, via appropriate method, transmitted accurately – and then received correctly at the right time. To do this management must regularly review communication strategies and implement methods to evaluate effectiveness of key safety communications
If you would like any further help or support, please please contact us by phone 01458 253682, email or via our Facebook page or by Twitter.
---
Taunton & Somerset CPD Group at The Exchange House Taunton
Please remember that we now run these CPD events at the Exchange House, 12 – 14 The Crescent, Taunton TA1 4EB on a fortnightly basis
The next of the CPD events is listed below.
As previously requested, if you could let us know whether or not you can attend it would be greatly appreciated. Also, if you would like to give a talk, or know of somebody who would, please contact Jon at [email protected]
Our next Seminar will be on Wednesday 21st November 2018. Could you please arrive by 12:30pm prompt.
Our speaker for this one is Mike Cooper of Miscanthus Nursery will talk about "Should Somerset reconsider its Biomass production and Procurement"
If you haven't already booked your place, or if you are not on the CPD Seminar mailing list but would like to be please drop Jon an email and he will deal with your request.
As per our last one if you could let Jon know whether or not you can attend within 7 days of receipt of his email, it would be greatly appreciated.
Contact Details [email protected]  07831 714199 or 01458 253682
*Early notice of 5th December meeting. Charlotte Markey of GreenBlue Urban will talk about Designing Trees into the Urban Environment
For more details about these and the other forthcoming CPD talks please see cpds for the rest of 2018.
---