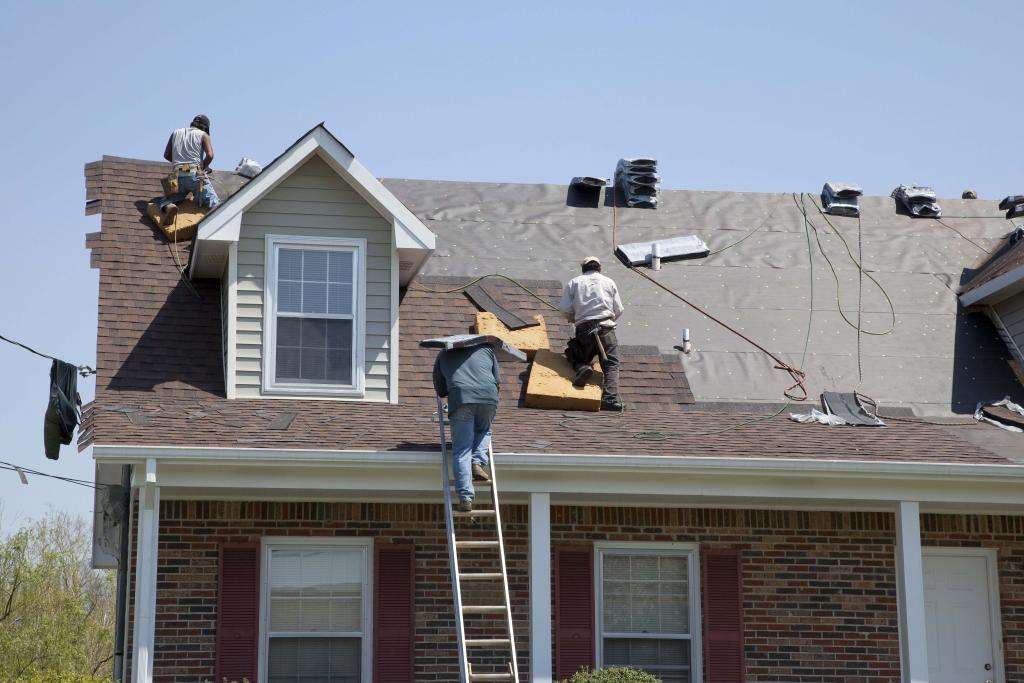 HSE have revised/improved/simplified their advice on working at height and have also debunked some of the myths surrounding the 2005 regulations.
Falls from height are one of the biggest causes of workplace fatalities and major injuries. Common causes are falls from ladders and through fragile roofs. The purpose of the Work At Heights Regulations is to prevent death and injury from a fall from height.
Work at height means work in any place where, if there were no precautions in place, a person could fall a distance liable to cause personal injury. For example you are working at height if you:
are working on a ladder or a flat roof;
could fall through a fragile surface;
could fall into an opening in a floor or a hole in the ground
accessing items stored on high shelves using a stepladder or hop up
Take a sensible approach when considering precautions for work at height. There may be some low-risk situations where common sense tells you no particular precautions are necessary and the law recognises this.
There is a common misconception that ladders and stepladders are banned, but this is not the case. There are many situations where a ladder is the most suitable equipment for working at height.
Before working at height you must work through these simple steps: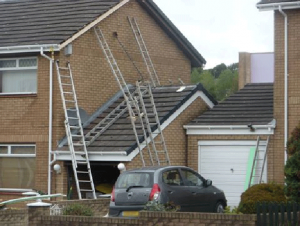 avoid work at height where it is reasonably practicable to do so;
where work at height cannot be avoided, prevent falls using either an existing place of work that is already safe or the right type of equipment;
minimise the distance and consequences of a fall, by using the right type of equipment where the risk cannot be eliminated.
You should:
do as much work as possible from the ground;
ensure workers can get safely to and from where they work at height;
ensure equipment is suitable, stable and strong enough for the job, maintained and checked regularly;
make sure you don't overload or overreach when working at height;
take precautions when working on or near fragile surfaces;
provide protection from falling objects;
consider your emergency evacuation and rescue procedures
Who do the Regulations apply to?
If you are an employer or you control work at height (for example if you are a contractor or a factory owner), the Regulations apply to you.
How do you comply with these Regulations?
Employers and those in control of any work at height activity must make sure work is properly planned, supervised and carried out by competent people. This includes using the right type of equipment for working at height.
Low-risk, relatively straightforward tasks will require less effort when it comes to planning. Employers and those in control must first assess the risks.
Take a sensible, pragmatic approach when considering precautions for work at height. Factors to weigh up include the height of the task; the duration and frequency; and the condition of the surface being worked on. There will also be certain low-risk situations where common sense tells you no particular precautions are necessary.
How do you decide if someone is 'competent' to work at height?
You should make sure that people with sufficient skills, knowledge and experience are employed to perform the task, or, if they are being trained, that they work under the supervision of somebody competent to do it.
So a sensible adult could be deemed competent for low-risk activities where competence requirements may be no more than making sure employees receive instruction on how to use the equipment safely (e.g. how to tie a ladder properly) and appropriate training. whereas erecting a scaffold will require very specific training and qualification
What measures should you take to help protect people?
Always consider measures that protect everyone who is at risk (collective protection) before measures that protect only the individual (personal protection).
Collective protection is equipment that does not require the person working at height to act to be effective, for example a permanent or temporary guard rail.
Personal protection is equipment that requires the individual to act to be effective. An example is putting on a safety harness correctly and connecting it, via an energy-absorbing lanyard, to a suitable anchor point.
What are the most common causes of accidents when working at height?
Roof work is high risk and falls from roofs, through fragile roofs and fragile roof lights are one of the most common causes of workplace death and serious injury. As well as in construction, these accidents can also occur on roofs of factories, warehouses and farm buildings when roof repair work or cleaning is being carried out.
The two cases in this newsletter are prime examples!
What do you need to consider when planning work at height?
The following are all requirements in law that you need to consider when planning and undertaking work at height.
You must:
take account of weather conditions that could compromise worker safety;
check that the place (e.g. a roof) where work at height is to be undertaken is safe. Each place where people will work at height needs to be checked every time, before use;
stop materials or objects from falling or, if it is not reasonably practicable to prevent objects falling, take suitable and sufficient measures to make sure no one can be injured, e.g. use exclusion zones to keep people away or mesh on scaffold to stop materials such as bricks falling off;
store materials and objects safely so they won't cause injury if they are disturbed or collapse;
plan for emergencies and rescue, e.g. agree a set procedure for evacuation. Think about foreseeable situations and make sure employees know the emergency procedures. Don't just rely entirely on the emergency services for rescue in your plan.
How do you select the right equipment to use for a job?
When selecting equipment for work at height, employers must:
provide the most suitable equipment appropriate for the work;
take account of factors such as:
the working conditions (e.g. weather);
the nature, frequency and duration of the work;
the risks to the safety of everyone where the work equipment will be used.
What must employees do?
Employees have general legal duties to take reasonable care of themselves and others who may be affected by their actions, and to co-operate with their employer to enable their health and safety duties and requirements to be complied with.
For an employee, or those working under someone else's control, the law says they must:
report any safety hazard they identify to their employer;
use the equipment and safety devices supplied or given to them properly, in accordance with any training and instructions (unless they think that would be unsafe, in which case they should seek further instructions before continuing).
You must consult your employees (either directly or via safety representatives), in good time, on health and safety matters. Issues you must consult employees on include:
risks arising from their work;
proposals to manage and/or control these risks;
the best ways of providing information and training.
Employers can ask employees and their representatives what they think the hazards are, as they may notice things that are not obvious and may have some good, practical ideas on how to control the risks.
If you would like any further help or support, please please contact us by phone 01458 253682, email or via our Facebook page or by Twitter.
---
Let's face it it's not every day you get a call from Mumbai and it's a genuine enquiry!
Monday morning, bright and early a call came through from a very large company based in Maharashtra, India but with offices globally across the world. This company, Sterling Wilson, specialises in the installation some of the largest renewal energy plants in the world, having only recently secured the contract for the world's largest single location solar PV plant in Sweihan, Emirates of Abu Dhabi.
This company has also recently taken on three contracts in the United Kingdom and wanted to appoint a competent Health & Safety adviser and a Principal Designer to work within the South West and Lancashire to ensure they were meeting their obligations under CDM Regulations 2015 and other UK Health & Safety legislation.
Having search on the internet, they found the Wilkins Safety Group and called us.
Visitors to our website will know that we have extensive experience in this area and we were pleased to share that with this company.
Within a very short time they appointed Wilkins Safety Group as their Safety Advisers and we had also secured the contract to be their Principal Designer and now look forward to working alongside them for the first time on some very big installations.
Watch this space for updates on progress …
---
Taunton & Somerset CPD Group at The Exchange House Taunton
Please remember that we now run these CPD events at the Exchange House, 12 – 14 The Crescent, Taunton TA1 4EB on a fortnightly basis
The next of the CPD events is listed below.
As previously requested, if you could let us know whether or not you can attend it would be greatly appreciated. Also, if you would like to give a talk, or know of somebody who would, please contact Jon at [email protected]
Our next Seminar will be on Wednesday 24th October 2018. Could you please arrive by 12:30pm prompt.
Our speaker for this one is Richard McMullan from Kinley Ltd with their recently updated RIBA approved CPD entitled "Roof Terrace and Podium Construction".
If you haven't already booked your place, or if you are not on the CPD Seminar mailing list but would like to be please drop Jon an email and he will deal with your request.
As per our last one if you could let Jon know whether or not you can attend within 7 days of receipt of his email, it would be greatly appreciated.
Contact Details [email protected], 07831 714199 or 01458 253682
*Early notice of 7th November meeting. Adrian Stanton of Wetherby Building Systems will talk about "External Wall Insulation" Please note that this is a change of speaker & topic to the one previously advertised for 7th November  
For more details about these and the other forthcoming CPD talks please see cpds for the rest of 2018.
---