Asbestos – The hidden Killer
Last week I looked at Health and Safety with social housing providers. Then I saw a few days later, that a residential property management company has just been fined for serious breaches of the Control of Asbestos Regulations 2012 – see the first of this week's cases.
So I thought it might be a good time to remind all about the dangers of asbestos and your duties.
---
This week's 2 recent HSE cases look at:
As ever, if you have a subject that you would like us to cover one week, please contact us by phone 01458 253682, email or via our Facebook page or by Twitter.
---
Asbestos – The hidden Killer
Asbestos can be found in any building built before the year 2000 (houses, factories, offices, schools, hospitals etc) and causes around 5000 deaths every year.
Why is asbestos dangerous?
Asbestos still kills around 5000 workers each year, this is  more than the number of people killed on the road.
Around 20 tradesman die each week as a result of past exposure
However, asbestos is not just a problem of the past. It can be present today in any building built or refurbished before the year 2000.
When materials that contain asbestos are disturbed or damaged, fibres are released into the air. When these fibres are inhaled they can cause serious diseases. These diseases will not affect you immediately; they often take a long time to develop, but once diagnosed, it is often too late to do anything. This is why it is important that you protect yourself now.
Asbestos can cause the following fatal and serious diseases:

Mesothelioma
Mesothelioma is a cancer which affects the lining of the lungs (pleura) and the lining surrounding the lower digestive tract (peritoneum). It
is almost exclusively related to asbestos exposure and by the time it is diagnosed, it is almost always fatal.
Asbestos-related lung cancer
Asbestos-related lung cancer is the same as (looks the same as) lung cancer caused by smoking and other causes. It is estimated that there is around one lung cancer for every mesothelioma death.
Asbestosis
Asbestosis is a serious scarring condition of the lung that normally occurs after heavy exposure to asbestos over many years. This condition can cause progressive shortness of breath, and in severe cases can be fatal.
Pleural thickening
Pleural thickening is generally a problem that happens after heavy asbestos exposure. The lining of the lung (pleura) thickens and swells. If this gets worse, the lung itself can be squeezed, and can cause shortness of breath and discomfort in the chest.
Note: It is also important to remember that people who smoke, and are also exposed to asbestos fibres, are at a much greater risk of developing lung cancer.
Where can you find asbestos?
Asbestos can be found in any industrial or residential building built or refurbished before the year 2000. It is in many of the common materials used in the building trade that you may come across during your work.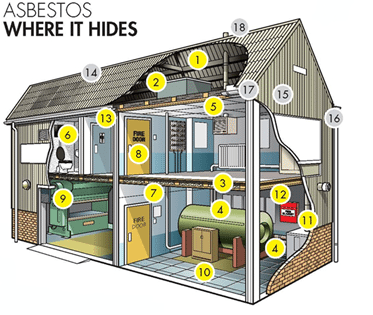 Inside:
Sprayed coatings on ceilings, walls, beams and columns
Asbestos cement water tank
Loose fill insulation
Lagging on boilers and pipes
AIB ceiling tiles
Toilet seat and cistern
AIB partition walls
AIB panels in fire doors
Asbestos rope seals, gaskets and paper
Vinyl floor tiles
AIB around boilers
Textiles e.g fire blankets
Textured decorating coatings on walls and ceilings eg artex
Outside
Asbestos cement roof
Asbestos cement panels
Asbestos cement gutters and downpipes
Soffits – AIB or asbestos cement
Asbestos cement flue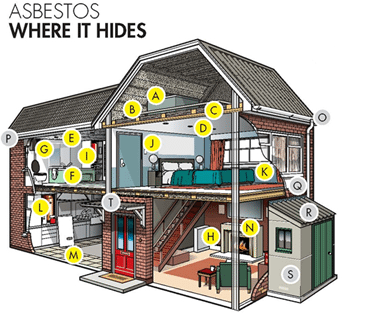 Inside:
Asbestos cement Water tank
Pipe lagging
Loose fill insulation
Textured decorative coating eg artex
AIB ceiling tiles
AIB bath panel
Toilet seat and cistern
AIB behind fuse box
AIB airing cupboard and/or sprayed insulation coating boiler
AIB partition wall
AIB interior window panel
AIB around boiler
Vinyl floor tiles
AIB behind fire
Outside:
gutters andAsbestos cement downpipes
Soffits – AIB or asbestos cement
AIB exterior window panel
Asbestos cement roof
Asbestos cement panels
Roofing felt
AIB = Asbestos Insulating Board
Am I at risk?
Workers involved in refurbishment, maintenance and other similar trades, could be at risk of exposure to asbestos during their work. This includes:
Heating and ventilation engineers
Demolition workers
Carpenters and joiners
Plumbers
Roofing contractors
Painters and decorators
Plasterers
Construction workers
Fire and burglar alarm installers
Shop fitters
Gas fitters
Computer and data installers
General maintenance staff eg caretakers
Telecommunications engineers
Architects, building surveyors, and other such professionals
Cable layers
Electricians
This list does not include all occupations at risk from potential exposure to asbestos.
When am I most at risk?
You are most at risk when:
the building you are working on was built before the year 2000
you are working on an unfamiliar site
asbestos-containing materials were not identified before the job was started
asbestos-containing materials were identified but this information was not passed on by the people in charge to the people doing the work
you haven't done a risk assessment
you don't know how to recognise and work safely with asbestos
you have not had appropriate information, instruction and training
you know how to work safely with asbestos, but you choose to put yourself at risk by not following proper precautions, perhaps to save time or because no one else is following proper procedures
Remember
you can't see or smell asbestos fibres in the air
the effects of being exposed to asbestos take many years to show up – avoid breathing it in now
people who smoke and are also exposed to asbestos fibres are at a much greater risk of developing lung cancer
asbestos is only a danger when fibres are made airborne and breathed in
as long as the asbestos is in good condition and it is located somewhere where it can't be easily damaged then it shouldn't be a risk to you
What are my duties as an employer?
Every employer must make sure that anyone who is liable to disturb asbestos during their normal work, or who supervises those employees, gets the correct level of information, instruction and training so that they can work safely and competently without risk to themselves or others.
What are my duties as a Landlord or property owner?
If you are a building owner, and/or are responsible for the maintenance or repair of non-domestic premises, you have a duty to manage any asbestos in that building.
The duty to manage covers all non-domestic premises including industrial and commercial buildings such as factories, warehouses, offices and shops.  The duty also covers public buildings such as hospitals, schools, museums, libraries, leisure centres, churches and other religious buildings.
Although the duty does not apply to domestic premises such as private houses, it does apply to the 'common parts' of multi-occupancy domestic premises, such as purpose-built flats or houses that are converted into flats.
Your duties include finding out where asbestos is present by having a "Management Survey" carried out and then reviewed annually.
If you intend to have any building works carried out that will involve breaking into the existing fabric of the building, you must have a "Demolition and Refurbishment" Asbestos survey carried out prior to these works taking place.
Asbestos awareness Training
Information, instruction and training for asbestos awareness is intended to give workers and supervisors the information they need to avoid work that may disturb asbestos during any normal work which could disturb the fabric of a building, or other item which might contain asbestos. It will not prepare workers, or self-employed contractors, to carry out work with asbestos-containing materials. If a worker is planning to carry out work that will disturb ACMs, further information, instruction and training will be needed.
The Wilkins Safety Group are running the next Asbestos Awareness Course in September 2018
Is there any subject you would like covered in this newsletter? Please contact us by phone 01458 253682, or email.
---
Taunton & Somerset CPD Group at The Exchange House Taunton
Please remember that we now run these CPD events at the Exchange House, 12 – 14 The Crescent, Taunton TA1 4EB.
The next of the CPD events is listed below.
As previously requested, if you could let us know whether or not you can attend it would be greatly appreciated. Also, if you would like to give a talk, or know of somebody who would, please contact Jon at [email protected].
Our next Seminar will be on Wednesday 20th June 2018. Could you please arrive by 12:30pm prompt.
Our speaker for this one is James Spencer of Isothane Ltd will talk about "Spray applied and injected polyurethane foam insulation"
If you haven't already booked your place, or if you are not on the CPD Seminar mailing list but would like to be please drop Jon an email and he will deal with your request.
As per our last one if you could let Jon know whether or not you can attend within 7 days of receipt of his email, it would be greatly appreciated.
Contact Details [email protected]  07831 714199 or 01458 253682
The meetings will then take a break over July and August as in previous years, returning in September when we aim to have them fortnightly.
---
FREE Health and Safety event
We are hosting a free to attend Health & Safety event on Thursday 14th June 2018 at the Taunton Racecourse, Orchard Portman, Taunton TA3 7BL.
This will cover ALL businesses in the morning and then mainly construction related businesses in the afternoon.
We will look at what you need to do to meet your legal requirements regarding Health and Safety and it will give you the opportunity to discuss your needs with members of our team, including Occupational Health & Safety Specialists, CDM Consultants, Asbestos Surveyor, COMAH Expert and our Fire Consultant.
There will be a couple of short talks in each session with a finger buffet lunch when you can talk to our team as well as network with other attendees.
Please note: Places are limited so book as soon as you can. For more information and to book your place call the Wilkins Safety Group Ltd on 01458 253682 or email us at [email protected]
---