Working Safely in High Winds
With the winds getting high at the moment and with more high winds to follow, it was suggested that I look at the risks of working in this weather.
I remember an incident, about 20 years ago, when a building operative was working on an industrial unit. He was a cladder and was on the scaffold attempting to carry a roofing panel during high winds. There was a sudden gust of wind which blew him, still holding on to the panel, off the scaffold falling some 20 -25ft to his death on the concrete below.
---
We also have 2 recent HSE cases for you to look at and think about:
We hope you learn from the mistakes of others that are highlighted in our weekly newsletters and, as a result, do not have similar accidents at your workplace.
As ever, if you have a subject that you would like us to cover one week, please contact us by phone 01458 253682, email or via our Facebook page or by Twitter.
---
Working Safely in High Winds.
Working at heights is especially risky in high winds as the lack of shelter exposes workers to stronger gusts that can throw workers off balance. At the same time the distance to the ground increases the likelihood that a fall will be fatal. (30% of fatal falls happen from a height of less than 2 metres, and 50% from less than 3 metres).
All too often workers, especially those who are self-employed and on a price for the job, will continue to work even though it is not safe. Many, such as the gentleman I referred to earlier, are just trying to finish off the job to the agreed completion date.
Of course, working on the ground can also present many dangers in high winds. Scaffolds can come down, trees can fall or even items such as wheelie bins can be blown up streets.
Always be Prepared
Check weather reports and monitor conditions continuously. Do not schedule work at elevations on days where high winds are forecast
Wind can pick up quickly and sudden gusts can take you by surprise – always wear a harness when working at heights over 1.5m and ensure you are connected to an anchor point at all times
Ensure partially built structures are properly supported at all times regardless of weather conditions and that walls are adequately braced until building is complete
Ensure scaffolding and other temporary structures are secure and could not be blown over
During High Winds
Never work on scaffoldings, roofs or other elevations during strong winds (winds in excess of 18MPH can effect balance)
Ensure that tools are packed away safely and that roofing sheets, cones, signage and other loose materials are safely secured. (A 18 miles per hour wind (classed on the beaufort scale as a 'fresh breeze'), can pick up a piece of scrap material and carry it as far out as the height from which it came)
Wear eye protection to keep dust, debris and other foreign particles from blowing into the eyes
Ensure hard hats are securely fastened and cannot be blown off your head
Use extreme caution when picking up large sections of plywood or similar flat materials, as these can act as a sail.
Tag lines should be used when hoisting loads with large flat surfaces
Do not operate hoisting equipment (personnel or material) in winds exceeding 31 MPH without approval from your supervisor (Supervisors should consult manufacturers recommendations for guidance)
Cease all crane operations until wind speed returns to acceptable level
Beaufort Scale for Construction Workers
To help workers identify wind hazards and know the appropriate actions to take, we have put together a Beaufort Scale Construction Safety Guide. See below: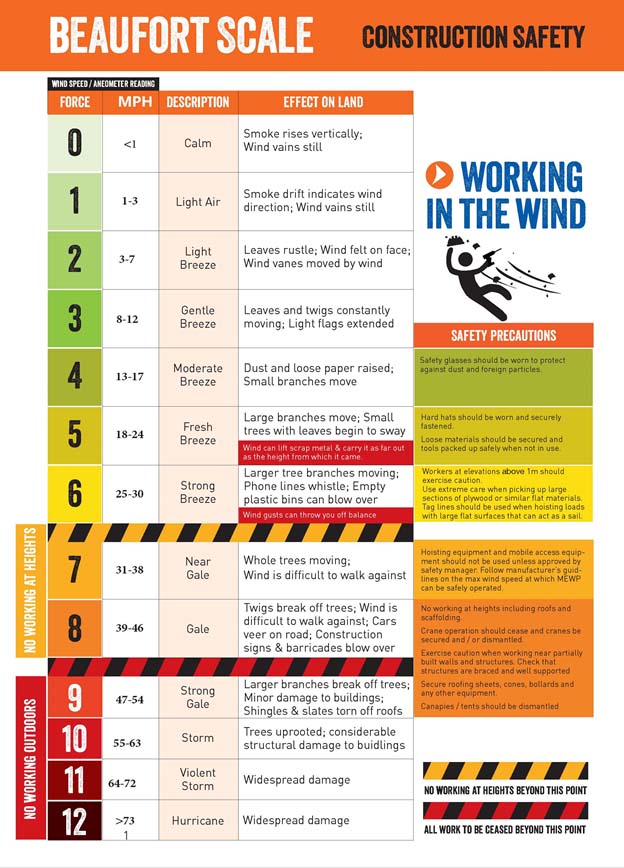 If you would like further help on this topic or if you have any topic you would like us to cover in this newsletter  please contact us by phone 01458 253682, email.
---
Taunton & Somerset CPD Group at The Lawns Taunton
The next of the CPD events is listed below.
As previously requested, if you could let us know whether or not you can attend it would be greatly appreciated. Also, if you would like to give a talk, or know of somebody who would, please contact Jon.
Our next Seminar will be on Wednesday 24th January 2018. Could you please arrive by 12:30pm prompt.
Our speaker for this one is Luke Morgan from Rockwool and there will also be a talk from the Rock Panel side of the Business, you can download a PDF here on what Luke is going to talk about.
If you haven't already booked your place, or if you are not on the CPD Seminar mailing list but would like to be please drop Jon an email and he will deal with your request.
As per our last one if you could let Jon know whether or not you can attend within 7 days of receipt of his email, it would be greatly appreciated.
Contact Details [email protected]  07831 714199 or 01458 253682.
---
Training Courses
We shall be running new courses again in 2018 and the dates and details of forthcoming courses will be published here each week.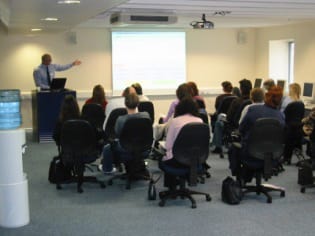 But remember we are still available for running "In House" courses and are looking to add new training courses to our list.
If you have any questions about these courses or any other training or would like us to run a particular course for you, call Jon Wilkins of the Wilkins Safety Group on 01458 253682 or email him.
We are talking with the Racecourse at Taunton to arrange suitable dates and have been asked to run the Construction Safety Course as needed for getting a CSCS card to work on most sites.
We have also been approached to run the 2 day Level 2 course in Supervising Staff Safely which is equivalent to the 5 day IOSH 'Managing Safely' Course but of course it only means you lose your managers for 2 rather than 5 days.
More details about the dates for these courses as well as our CDM 2015 Awareness course/ Asbestos Awareness Course and our other popular courses next week.
---