CDM2015 – The Questions answered
The Construction (Design & Management) Regulations 2015 are still a regular source of questions asked of us here at Wilkins Safety Group. 
So, this week I thought that I had better cover the most common questions we get and answer them here for everybody.
For those of you who wish to gain a more in depth understanding of these regulations, I suggest that you book yourself on to one of our courses that will be running again from September
---
The two HSE cases this week both look at tragic accidents that shouldn't have happened
As ever, if you have a subject that you would like us to cover one week, please contact us by phone 01458 253682 Email or via our Facebook page or by Twitter.
---
CDM2015 – The Questions answered
CDM2015 has been in place since April 2015 but we are still being asked questions about these regulations and/or having to put people right regarding the myths that we hear. 
So, in an effort to clarify we look at each of these here:
"I am a private householder having works done to my house by a builder, so these Regulations don't apply Right" 
Sorry this is wrong! CDM does apply to your building works although your duties, as a private domestic client, are passed to your Principal Designer and/or Principal Contractor. CDM applies to ALL building projects be they commercial or domestic, big or small. So, if you are having an extension built, a loft conversion, new kitchen or bathroom fitted or even just having a replacement boiler fitted then CDM applies.
Am I right that CDM only applies if it lasts more than 30 days?
Again the answer is NO. That is what the old 2007 Regulations said. These 2015 Regulations apply to ALL construction projects, even those that only take half an hour to complete!The other mistake that is often made is which projects must be notified to the HSE.
The Regulations state that:
If the project will last more than 30 days and have more than 20 workers on site at any one time, or; involve more than 500-person days, the HSE must be notified.
So, If your construction project last 31 days, 30 of those with only 5 men on site but on the 31st day there are 21 workers, so a total of only 171 person days it is NOTIFIABLE because you have had more than 20 workers on one day.
Or if you have 8 persons working for 3 months, or 66 work days that equates to 528 days so NOTIFIABLE.
But remember, CDM2015 applies to EVERY building project regardless of whether it is notifiable or not. So although you may be doing a quick hour of painting some doors, CDM still applies, but you do not have to tell the HSE about it.
Do CDM Principal Designers have to be qualified architects?
No, I think the name is misleading. Yes, many Principal Designers are Architects but the majority of Principal Designers are not. Many are former CDM Coordinators, Project Managers of Engineers.
The duties of the Principal Designer are to:
Plan, manage, monitor and co-ordinate health and safety in the pre- construction phase of a project.
This includes:
identifying, eliminating or controlling foreseeable risks
ensuring designers carry out their duties.
Prepare and provide relevant information to other duty holders.
Liaise with the principal contractor to help in the planning, management, monitoring and co-ordination of the construction phase.
So, you should be making sure that your chosen Principal Designer is competent, is trained in the managing of Health & Safety and has the relevant Skills Knowledge Experience. He/she should also have a design background or have access to a designer for advice if needed.
Remember, if there is more than one contractor required to carry out the works, so the Principal Contractor needs to get scaffold put up by a scaffold company or engages an electrician, plumber or any other tradesman that is NOT in his direct employment, then you MUST appoint a Principal Designer to Plan, manage, monitor and co-ordinate the health and safety.
Isn't there loads of unnecessary paperwork?
No, there is some paperwork required but the size and detail required is commensurate with size and scope of the works. The paperwork need is:
Form F10, which is the form used to notify the HSE of a construction project, is ONLY required for notifiable projects – see what is notifiable above.
Pre-Construction Information Pack, PCIP, provides information to the Principal Contractor about the site that he needs to know in order to manage a safe site. For example, where the mains services are, what risks could not be designed out, what risks are in the neighbouring area such as a school or public right of way.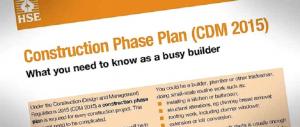 The Construction Phase Plan, CPP, which the chosen Principal Contractor writes to demonstrate what Safety Management he has assigned to the works, training/competency etc. and how he is intending to address the risks that were highlighted in the PCIP and generally around the site.This CPP will probably be a sizable document on a multi-million-pound project but may only be 1, 2 or 3 pages long for a small job. O on smaller contracts, the builder could use the CITB's App "CDM Wizard"
The Health & Safety File, HSF, is produced by the Principal Designer in association with the Principal Contractor for the end of the project. This document contains the relevant Health & Safety information about the project that may need to be considered for any subsequent maintenance or future building works. This will include "As built" drawings, O&M Manuals for anything fitted such as boilers, Test certificates for electrical and gas works. Also, information about any safety controls required for future maintenance. For example, access controls to high level areas.
CDM2015 is about the 3Rs
Providing the Right information to the Right people at the Right time and acting upon it.
Finally, what happens if I get it wrong?
This depends largely on whether you are a commercial or domestic client or a builder or a designer.
If you are a Commercial Client and you fail to appoint a duty holder, Principal Designer, Designer or Principal Contractor, you take on the duties of those not appointed.
If you fail to carry out the appropriate checks on the other duty holders and something goes wrong. You could be found to be liable as failing in your duty.
If you are a domestic client then largely your duties get passed by default to the Principal Designer, which on domestic projects, could be the first designer that was engaged on the works. The Client's duties could also be transferred to the Principal Contractor, or contractor if only one contractor involved.
If you are a builder and working as Principal Contractor, contractor if only one involved, then you are responsible for the production of the CPP/ Risk Assessments Method Statements, RAMS, and the safe running of the site and protection of anybody who could be affected by it.Failure to comply with your duties could find you falling foul of the HSE and facing prosecution where, as discussed in previous newsletters, the fines are now getting very high. You could also be issued with a FFI Invoice by the HSE which is charged at the rate of £129 + vat per hour.
Remember CDM2015 applies to ALL building works so if you need further advice please get in touch by phone 01458 253682, email, or by our Facebook page or Twitter.
---
We have been shortlisted again!!
The Wilkins Safety Group has been shortlisted for two APS National CDM Awards again this year


This is the 3rd year running we have made the finals.
We have once again been shortlisted as finalists for Principal Designer of the Year 2017 and Consultancy of the Year 2017.
Hopefully, in this our 25th Year, we can go one better than the last two years and win the top award but we know that we are yet again taking on the big boys such as:
Arcadis, who are a leading global Design & Consultancy firm employing 27,000 people over 70 countries and
The Waterman Group which is a multidisciplinary consultancy and part of CTI Engineering, the leading Japanese engineering consultancy.
The APS National CDM Awards are now in their tenth year.   They were started in 2008 to recognise, reward and share outstanding good practice in the Design and Construction Health and Safety Risk Management sector.
---
Training Courses
We are pleased to announce that we have been appointed as a British Safety Council approved Training Centre.
This allows us to run Ofqual accredited qualifications. These Qualifications sit on the Regulated Qualifications Framework and include such courses as
the CSCS Green Card which was developed in partnership with the Construction Industry Training Board (CITB) for people wishing to apply for a CSCS card.
Level 2 & 3 Supervising Staff Safely mixed with Risk Assessment which is comparable to IOSH Managing Safely
There are more courses to follow in May and June – See below.
We are also looking to run some short Health and Safety awareness sessions to emphasise the need for improving your H&S procedures.
We do not run open courses during July and August as it clashes with the holiday period but we are available for your "In House" course
Our next batch or courses will start in September 2017
If you have any questions about these courses or any other training or would like us to run a particular course for you, call Jon Wilkins of the Wilkins Safety Group on 01458 253682 or email him
---