Farm Health and Safety
Figures released by the Health and Safety Executive show that 137 employees were killed at work during 2016/2017, of which 27 were in agriculture.  Of course, farms can be dangerous places which affect, not just the farming community of Britain but anyone who visits the countryside and enters farmland. This could be somebody out walking enjoying the fresh air, people having a holiday staying on a farm or people, especially children, visiting a farm as part of their holiday or on a school trip.
---
The two HSE cases this week both look at tragic accidents that shouldn't have happened
As ever, if you have a subject that you would like us to cover one week, please contact us by phone 01458 253682, email or via our Facebook page or by Twitter.
---
Farm Health and Safety – Things to think about for everybody!
Farming accident rates showing no decline!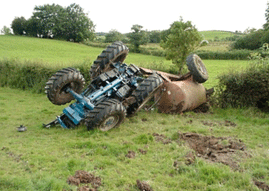 Some 33 fatal injuries to agricultural workers were recorded – a rate of 9.12 deaths per 100,000 workers, the same as the average of 33 deaths in the past five years and, unfortunately, an increase from the 27 deaths recorded in 2013/14.
So what are the main areas to consider, both for the farmer/farm worker and the casual visitor?
Farm Vehicles
29% of all farm related fatalities have been due to vehicle overturns and people being struck by moving vehicles on England's farms.
All-terrain vehicles, including quad bikes, can have fatal consequences if best practice is not adhered to. Even when it is, there is always the possibility that accidents can happen – but you can take steps to reduce those chances and best protect yourself should an issue occur.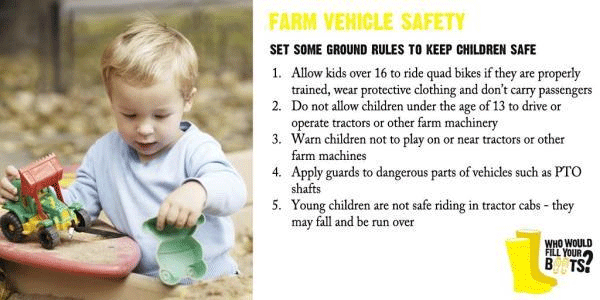 And of course, if you are the driver of a farm vehicle don't forget to think about the consequences of your actions and don't lose concentration!
Experienced farmer Roger James lost concentration and hence control of his quad bike whilst riding up a slope on his Powys farm and ended up underneath it.
Roger admits that a moment's inattention changed his, and his family's life forever.
"99 times out of 100 I wouldn't have gone up that slope on the quad bike," he said.

"I just wasn't concentrating on what I was doing for those few seconds.  I did it without thinking.  Basically, I shouldn't have been there."
Roger was herding cows on his farm at the time. Before moving the herd, he set off on his quad bike to check out the new field. With a number of tasks in mind his attention slipped, just for a moment, from steering the machine along an appropriate route.
That fleeting loss of concentration meant he found himself riding up a slope instead of continuing his approach on level ground.  The result was sudden and dramatic.  The slope was too steep for the vehicle's stability. It tipped backwards and upended, throwing Roger on to the ground behind.  As he lay there, stunned and unable to move, the tumbling machine landed on him.  Half a tonne of falling metal hit Roger's unprotected body and smashed his pelvis. He wasn't wearing protective headgear so, serious as his injuries were, he considers himself lucky they weren't even worse.
Roger spent eight days in traction before being transferred to University Hospital, Coventry for surgery. He then spent a further seven days in hospital and the following three months confined to bed. But the consequences of that momentary lapse are permanent. Roger's injury has left him in constant pain with limited mobility.
Livestock ABC-'Always Be Careful'
Over the past five years 17% of all reported major injuries are as a result of livestock-related incidents and 11% of all workers killed on farms over this period were livestock-related. Handling livestock always involves risks, from crushing to kicking and butting.
Of course it isn't just Farmers and their workers who are at risk from livestock. People with little to no knowledge of livestock can find themselves in trouble when the wander into fields of cattle especially when they have a dog on the lead.
Most cattle are placid animals and safe to be near. However some breeds are more temperamental than others whilst all breeds will go on the offensive to protect their young, especially if they feel threatened by a barking dog. So please think BEFORE you enter a field of livestock!
Fencing of slurry lagoons
A few years ago I visited a farmer out on Exmoor. His wife was subsidising their business by running a small B&B business. Whilst I was there I saw some children kicking a ball around only a few yards away from his Slurry pit. Now it was in the summer and the top of the slurry had formed a crust and so looked much like the rest of the ground. There was no fence to prevent these children running on to this slurry pit to retrieve their ball.
When I pointed this out to the farmer, he said he couldn't see a problem because "Everyone knows what it is" and "no-one has run onto it yet"
But, as I pointed out to him, these children were on holiday from a city and probably didn't know what it was and as the HSE report:
Incidents involving slurry occur regularly on farms in Great Britain. These incidents include people, not just farmers, being overcome by toxic gases, drowning as a result of a fall into slurry or liquid stores, or being injured from the collapse of structures containing slurry.
The HSE has updated their guidance on the precautions required to prevent these incidents, including practical advice on:
avoiding exposure to slurry gases
standards of fencing etc needed to deter access by unauthorised people – particularly children – into areas used for storing slurry, other effluent, or water on farms
preventing vehicles entering slurry storage areas at scraping points
assessing the structural integrity of above-ground slurry storage facilities.
The guidance can be found here.
Farmers: Stay safe in hot weather!
As I discussed last week Temperatures are forecast to reach 30 degrees in parts of the UK over the summer with high pollen and UV levels also forecast.
This is also the time of year when many farmers are out in their fields hay making etc. so we ask them to consider the following safety tips:
Covering up exposed skin
Using a hat to protect the head
Seeking shade during the hottest part of the day
Frequent application of sun screen during the day
Drinking of plenty of water
Checking for changes to the skin
Children and farms
Every child loves being on the farm, but while it can be place of great fun and excitement, it can also be an extremely dangerous environment.
As a parent myself it is upsetting to read that 16 children have lost their lives on England's farms over the past decade. Farms remain the only workplace where children still continue to die in what is always a horrific tragedy for families and heart-breaking for their communities. This is why it is important that the issue of farm safety is addressed, a plan is devised and implemented properly.
Summer is a time when children can be more at risk with the long school summer holidays and the challenging workloads for farmers. I recommend that farming families, especially those that have holiday makers coming to stay, have a dedicated safe play area for younger children so as to keep them safe from heavy machinery and other dangers around the farm, particularly when farms are at their busiest.
Too often, children have access to the entire farm and view it as one big play space. Children must be taught about farm dangers and be kept isolated from these risks.
While it is important that children are looked after they should still being encouraged to engage with farms in order to learn how they work and understand how food is produced. It is also important that the next generation of farmers are able to safely help their parents on the farm.
If children are old enough, tell them about the dangers they should look out for and where they are not allowed to go and encourage them to be responsible. Don't let them learn safety by accident. Always take the time to think about what you are doing on the farm, where the children are and what might go wrong as making a few simple checks could actually save a life – maybe your own child's!
Farms can be wonderful places but please remember to keep safe!
Is there any subject you would like covered in this newsletter? Please contact us by phone 01458 253682, email and let us know.
---
Taunton & Somerset CPD Group at The Lawns Taunton
Thanks once again to everyone who attended on 24th May for the Thorn Lighting Seminar and we hope you will all be able to attend the next one as it looks like it will be very interesting.
Martin Kent our Customer Relations Manager has arranged this month's seminar – see below. This is the last of these seminars until September so as not to clash with the holiday period. If you would like to give a talk, or know of somebody who would, in the Autumn and Winter months please contact Martin.
The third of these new seminars is on Wed 28th June at 12-15pm prompt please: at The Lawns Taunton..
Our Speaker will be from Ecophon which is about Ceiling Design and Room Acoustics.
If you haven't already booked your place, or if you are not on the CPD Seminar mailing list but would like to be please drop Martin an email and he will deal with your request.
---
Training Courses
We are pleased to announce that we have been appointed as a British Safety Council approved Training Centre.
This allows us to run Ofqual accredited qualifications. These Qualifications sit on the Regulated Qualifications Framework and include such courses as
the CSCS Green Card which was developed in partnership with the Construction Industry Training Board (CITB) for people wishing to apply for a CSCS card.
Level 2 & 3 Supervising Staff Safely mixed with Risk Assessment which is comparable to IOSH Managing Safely
There are more courses to follow in May and June – See below.
We are also looking to run some short Health and Safety awareness sessions to emphasise the need for improving your H&S procedures.
We do not run open courses during July and August as it clashes with the holiday period but we are available for your "In House" course
Our next batch or courses will start in September 2017
If you have any questions about these courses or any other training or would like us to run a particular course for you, call Jon Wilkins of the Wilkins Safety Group on 01458 253682 or email him
---