Construction firm fined after worker suffers cement burns.
A construction firm was fined after a 54-year-old employee suffered severe cement burns to his knees while laying concrete flooring.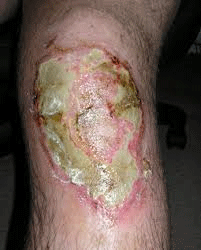 Sefton Magistrates' Court heard that on the 26 November 2014, an employee of DLP Services (Northern) Limited, kneeled in wet concrete to manually finish the concrete flooring being laid in a domestic bungalow. The cement burns to both his knees resulted in 12 days hospitalisation and ongoing treatment.
The Health and Safety Executive (HSE) investigation found the firm failed to adequately asses the risks and implement suitable and sufficient control measures to protect employees from contact of the wet concrete with the skin. In addition, it did not provide suitable Personal Protective Equipment (PPE) and there were no welfare facilities on site.
The court heard the company had been served with HSE Improvement Notices for lack of welfare facilities in September 2014 and June 2014.
HSE inspector Anne Foster said after the hearing:
"The injuries the employee suffered were entirely foreseeable and avoidable had the company implemented suitable controls, such as the use of long-handled tools, or the provision of suitable chemical resistant PPE. It is also wholly unreasonable to expect workers to travel four miles to find welfare facilities."
DLP Services (Northern) Limited of Cobden Street, Brindle Heath Industrial Estate, Pendleton, Salford, pleaded guilty to breaching Section 22 (1)(c) of the Construction (Design and Management) Regulations and Regulation 7(1) of the Control of Substances Hazardous to Health Regulations. The company was fined £14,000 with £1590 costs.
---