The Health & Safety Executive HSE has just released new guidance notes.
This guidance sets out an agenda for the effective leadership of health and safety. It is designed for use by all directors, governors, trustees, officers and their equivalents in the private, public and third sectors. It applies to organisations of all sizes.
So I thought that this week I would introduce you to this guidance as The Wilkins Safety Group support the HSE in their bid to help you find the best ways to lead and promote health and safety in your business.
We also have our regular glimpse at a couple of the latest HSE court cases in the hope that they make you look at your business and consider what you can do to improve the safety there.
---
The two HSE cases this week both look at tragic accidents that shouldn't have happened
Jonathan Newham, 52, of Skegness, died in hospital from head and chest crush injuries following the incident at George H Kime and Co Ltd in Wrangle, near Boston, Lincolnshire.
Mr Grace's safety glove got caught on a moving conveyor belt on the glass sorting machine on which he was carrying out maintenance. His arm was pulled into the machine and severed from above the wrist and attempts to reattach his hand were unsuccessful.
As ever, if you have a subject that you would like us to cover one week, please contact us by phone 01458 253682, email or via our Facebook page  or by Twitter
---
Leading Health & Safety at work.
Protecting the health and safety of employees or members of the public who may be affected by your activities is an essential part of risk management and must be led by the board.
Failure to include health and safety as a key business risk in board decisions, can have catastrophic results. Many high-profile safety cases over the years have been rooted in failures of leadership.
Health and safety law places duties on organisations and employers, and directors can be personally liable when these duties are breached: members of the board have both collective and individual responsibility for health and safety.
By following this guidance, you will help your organisation find the best ways to lead and promote health and safety, and therefore meet its legal obligations.
The starting points are the following essential principles. These principles are intended to underpin the actions in this guidance and so lead to good health and safety performance.
Essential principles
Strong and active leadership from the top:
visible, active commitment from the board;
establishing effective 'downward' communication systems and management structures;
integration of good health and safety management with business decisions.
Worker involvement:
engaging the workforce in the promotion and achievement of safe and healthy conditions;
effective 'upward' communication;
providing high-quality training.
Assessment and review:
identifying and managing health and safety risks;
accessing (and following) competent advice;
monitoring, reporting and reviewing performance.
Benefits of good health and safety
Addressing health and safety should not be seen as a regulatory burden: it offers significant opportunities.
Benefits can include:
reduced costs and reduced risks – employee absence and turnover rates are lower, accidents are fewer, the threat of legal action is lessened;
improved standing among suppliers and partners;
a better reputation for corporate responsibility among investors, customers and communities;
increased productivity – employees are healthier, happier and better motivated.
Costs of poor health and safety at work
HSE statistics reveal the human and financial cost of failing to address health and safety.
Each year:
Millions of working days are lost due to work-related illness and injury.
Thousands of people die from occupational diseases.
Around a million workers self-report suffering from a work-related illness.
Several hundred thousand workers are injured at work.
A worker is fatally injured almost every working day.
Organisations can incur further costs – such as uninsured losses and loss of reputation.
Legal responsibilities of employers
Health and safety law states that employers must:
assess risks to employees, customers, partners and any other people who could be affected by their activities;
arrange for the effective planning, organisation, control, monitoring and review of preventive and protective measures;
have a written health and safety policy if they have five or more employees;
ensure they have access to competent health and safety advice;
consult employees about their risks at work and current preventive and protective measures.
Failure to comply with these requirements can have serious consequences – for both organisations and individuals. Sanctions include fines, imprisonment and disqualification.
Under the Corporate Manslaughter and Corporate Homicide Act 2007, an offence will be committed where failings by an organisation's senior management are a substantial element in any gross breach of the duty of care owed to the organisation's employees or members of the public, which results in death.
The maximum penalty is an unlimited fine and the court can additionally make a publicity order requiring the organisation to publish details of its conviction and fine.
Plan – Do – Check – Act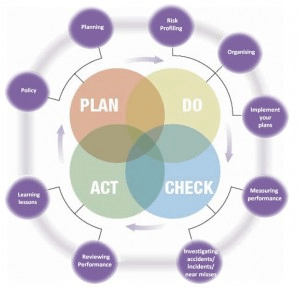 Step 1 – Plan
The board should set the direction for effective health and safety management. Board members need to establish a health and safety policy that is much more than a document – it should be an integral part of your organisation's culture, of its values and performance standards.
All board members should take the lead in ensuring the communication of health and safety duties and benefits throughout the organisation. Executive directors must develop policies to avoid health and safety problems and must respond quickly where difficulties arise or new risks are introduced; non-executives must make sure that health and safety is properly addressed.
Core actions
To agree a policy, boards will need to ensure they are aware of the significant risks faced by their organisation.
The policy should set out the board's own role and that of individual board members in leading the health and safety of its organisation. It should require the board to:
'own' and understand the key issues involved;
decide how best to communicate, promote and champion health and safety.
The health and safety policy is a 'living' document and it should evolve over time, e.g. in the light of major organisational changes such as restructuring or a significant acquisition.
How it can be done
Health and safety should appear regularly on the agenda for board meetings.
The chief executive can give the clearest visibility of leadership, but some boards find it useful to name one of their number as the health and safety 'champion'.
The presence on the board of a health and safety director can be a strong signal that the issue is being taken seriously and that its strategic importance is understood.
Setting targets helps define what the board is seeking to achieve.
A non-executive director can act as a scrutineer – ensuring the processes to support boards facing significant health and safety risks are robust.
Corporate governance
For many organisations, health and safety is a corporate governance issue. The board should integrate health and safety into the main governance structures, including board sub-committees, such as risk, remuneration and audit.
The Turnbull guidance on the Combined Code on Corporate Governance requires listed companies to have robust systems of internal control, covering not just 'narrow' financial risks but also risks relating to the environment, business reputation and health and safety.
Step 2 – Do
Delivery depends on an effective management system to ensure, so far as reasonably practicable, the health and safety of employees, customers and members of the public. Organisations should aim to protect people by introducing management systems and practices that ensure risks are dealt with sensibly, responsibly and proportionately.
Core actions
To take responsibility and 'ownership' of health and safety, members of the board must ensure that:
health and safety arrangements are adequately resourced;
they obtain competent health and safety advice;
risk assessments are carried out;
employees or their representatives are involved in decisions that affect their health and safety.
The board should consider the health and safety implications of introducing new processes, new working practices or new personnel, dedicating adequate resources to the task and seeking advice where necessary.
Boardroom decisions must be made in the context of the organisation's health and safety policy; it is important to 'design-in' health and safety when implementing change.
How it can be done
Leadership is more effective if visible board members can reinforce health and safety policy by being seen on the 'shop floor', following all safety measures themselves and addressing any breaches immediately.
Consider health and safety when deciding senior management appointments.
Having procurement standards for goods, equipment and services can help prevent the introduction of expensive health and safety hazards.
The health and safety arrangements of partners, key suppliers and contractors should be assessed; their performance could adversely affect yours.
Setting up a separate risk management or health and safety committee as a subset of the board, chaired by a senior executive, can make sure the key issues are addressed and guard against time and effort being wasted on trivial risks and unnecessary bureaucracy.
Providing health and safety training to some or all of the board can promote understanding and knowledge of the key issues in your organisation.
Supporting worker involvement in health and safety can improve participation and help prove your commitment.
Step 3 – Check
Monitoring and reporting are vital parts of a health and safety culture. Management systems must allow the board to receive both specific (e.g. incident-led) and routine reports on the performance of health and safety policy. Much day-to-day health and safety information need be reported only at the time of a formal review. But only a strong system of monitoring can ensure that the formal review can proceed as planned – and that relevant events in the interim are brought to the board's attention.
Core actions
The board should ensure that: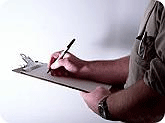 appropriate weight is given to reporting both preventive information (such as progress of training and maintenance programmes) and incident data (such as accident and sickness absence rates);
periodic audits of the effectiveness of management structures and risk controls for health and safety are carried out;
the impact of changes such as the introduction of new procedures, work processes or products, or any major health and safety failure, is reported as soon as possible to the board;
there are procedures to implement new and changed legal requirements and to consider other external developments and events.
How it can be done
Effective monitoring of sickness absence and workplace health can alert the board to underlying problems that could seriously damage performance or result in accidents and long-term illness.
The collection of workplace health and safety data can allow the board to benchmark the organisation's performance against others in its sector.
Appraisals of senior managers can include an assessment of their contribution to health and safety performance.
Boards can receive regular reports on the health and safety performance and actions of contractors.
Some organisations have found they win greater support for health and safety by involving workers in monitoring.
Step 4 – Act
A formal boardroom review of health and safety performance is essential. It allows the board to establish whether the essential health and safety principles – strong and active leadership, worker involvement, and assessment and review – have been embedded in the organisation. It tells you whether your system is effective in managing risk and protecting people.
Core actions
The board should review health and safety performance at least once a year. The review process should:
examine whether the health and safety policy reflects the organisation's current priorities, plans and targets;
examine whether risk management and other health and safety systems have been effectively reporting to the board;
report health and safety shortcomings, and the effect of all relevant board and management decisions;
decide actions to address any weaknesses and a system to monitor their implementation;
consider immediate reviews in the light of major shortcomings or events.
How it can be done
Performance on health and safety and well being is increasingly being recorded in organisations' annual reports to investors and stakeholders.
Board members can make extra 'shop floor' visits to gather information for the formal review.
Good health and safety performance can be celebrated at central and local level.
When leadership falls short
When board members do not lead effectively on health and safety management the consequences can be severe. These next examples mark issues for all boards to consider.
Competent advice, training and supervision
Following the fatal injury of an employee maintaining machinery at a recycling firm employing approximately 30 people, a company director received a 12-month custodial sentence for manslaughter. The machinery was not properly isolated and started up unexpectedly.
An HSE and police investigation revealed there was no safe system of work for maintenance, instruction, training and supervision were inadequate.
HSE's investigating principal inspector said: 'Evidence showed that the director chose not to follow the advice of his health and safety advisor and instead adopted a complacent attitude, allowing the standards in his business to fall.'
Monitoring
The managing director of a manufacturing company with around 100 workers was sentenced to 12 months' imprisonment for manslaughter following the death of an employee who became caught in unguarded machinery.
The investigation revealed that, had the company adequately maintained guarding around a conveyor, the death would have been avoided. The judge made clear that whether the managing director was aware of the situation was not the issue; he should have known as this was a long-standing problem. An area manager also received a custodial sentence. The company received a substantial fine and had to pay the prosecution's costs.
Risk assessment
A company and its officers were fined a total of £245 000 and ordered to pay costs of £75 500 at Crown Court in relation to the removal of asbestos. The company employed ten, mostly young, temporary workers; they were not trained or equipped to safely remove the asbestos, nor warned of its risk. The directors were also disqualified from holding any company directorship for two years and one year respectively.
Legal liability of individual board members for health and safety failures
If a health and safety offence is committed with the consent or connivance of, or is attributable to any neglect on the part of, any director, manager, secretary or other similar officer of the organisation, then that person (as well as the organisation) can be prosecuted under section 37 of the Health and Safety at Work etc Act 1974.
Recent case law has confirmed that directors cannot avoid a charge of neglect under section 37 by arranging their organisation's business so as to leave them ignorant of circumstances which would trigger their obligation to address health and safety breaches.
Those found guilty are liable for fines and imprisonment. In addition, the Company Directors Disqualification Act 1986, section 2(1), empowers the court to disqualify an individual convicted of an offence in connection with the management of a company. This includes health and safety offences. This power is exercised at the discretion of the court; it requires no additional investigation or evidence.
Individual directors are also potentially liable for other related offences, such as the common law offence of gross negligence manslaughter. Under the common law, gross negligence manslaughter is proved when individual officers of a company (directors or business owners) cause death by their own grossly negligent behaviour. This offence is punishable by an unlimited fine and a maximum of life imprisonment.
This is just a summary of the guidance given by the HSE.
Is there any subject you would like covered in this newsletter? Please contact us by phone 01458 253682 or email and let us know
Your Business is Safer in Our Hands
---